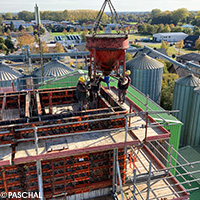 10.02.2022
A height of 32 metres reached in 10 concreting cycles
For a stairwell and lift tower, LOGO.3 wall formwork was combined with the climbing system 240 and presented itself as the perfect PASCHAL climbing duo.
After an extensive research and planning phase, the Raiffeisen Ostmünsterland eG construction site was set up in August 2021 at the address Tich 17 in D-48361 Beelen, Germany.
The construction work includes some maintenance work but primarily extending the concentrated feed plant to enable continued production of quality feed and to react even faster to individual customer requirements.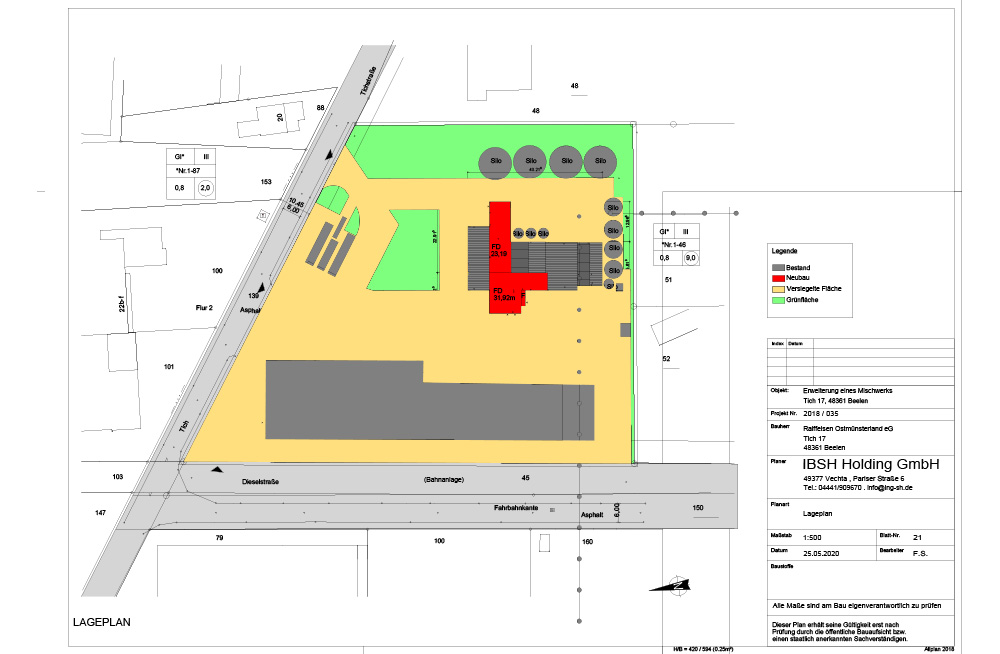 The renovation and new construction work took place during the client's ongoing operations and therefore required precision logistics for delivery and removal of the hired PASCHAL systems.
PASCHAL's regular customer, Growe Hagemeier Bauunternehmung GmbH, is responsible for the civil engineering, shell construction and reinforced concrete work.
Michael Neuhaus, the site manager in charge, explained the principles of the construction work: As the new building partly interferes with the existing building, special precautions had to be taken already during the civil engineering work. Dewatering was necessary as well as support for parts of the foundations of existing buildings.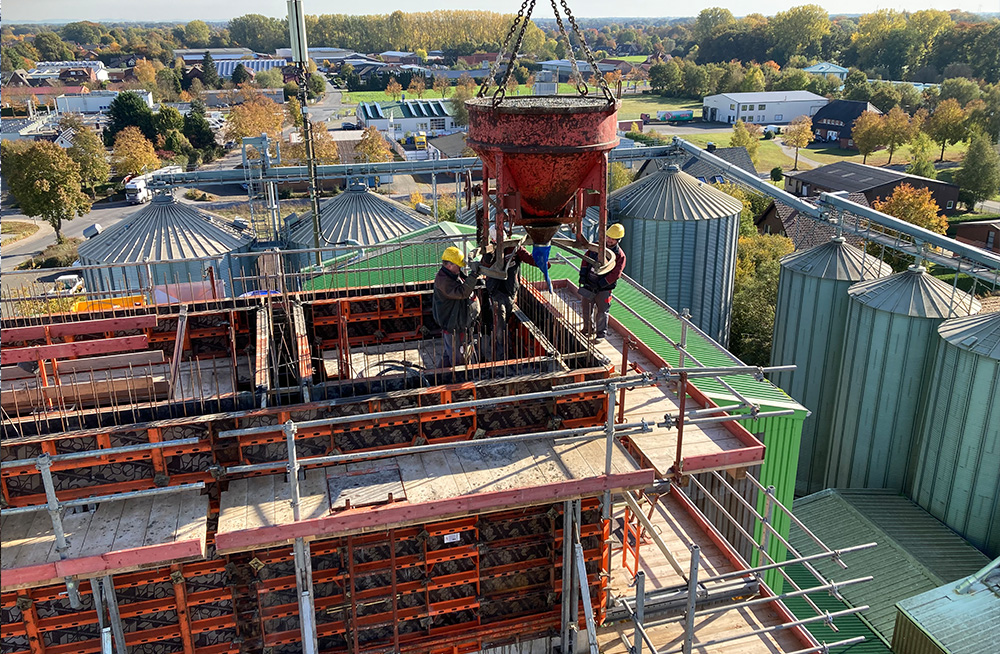 LOGO.3 wall formwork combined with the climbing system 240 made a perfect climbing duo.
The new building section has been constructed on a foundation slab and individual foundations, and was given allround frost protection.
PASCHAL has already been involved in forming these concrete structures, using Modular/GE universal formwork.
The above-ground construction of the new concentrate feed building is a steel framed construction with a thermal façade. The stairwell and lift shaft have been constructed in reinforced concrete and will subsequently be clad with thermal panels. The stairs have been designed as a steel skeleton with perforated sheet metal steps. Growe Hagemeier Bauunternehmung GmbH installed platforms as reinforced concrete structures in parts of the levels at + 5.80 m + 16.00 m and + 22.75 m.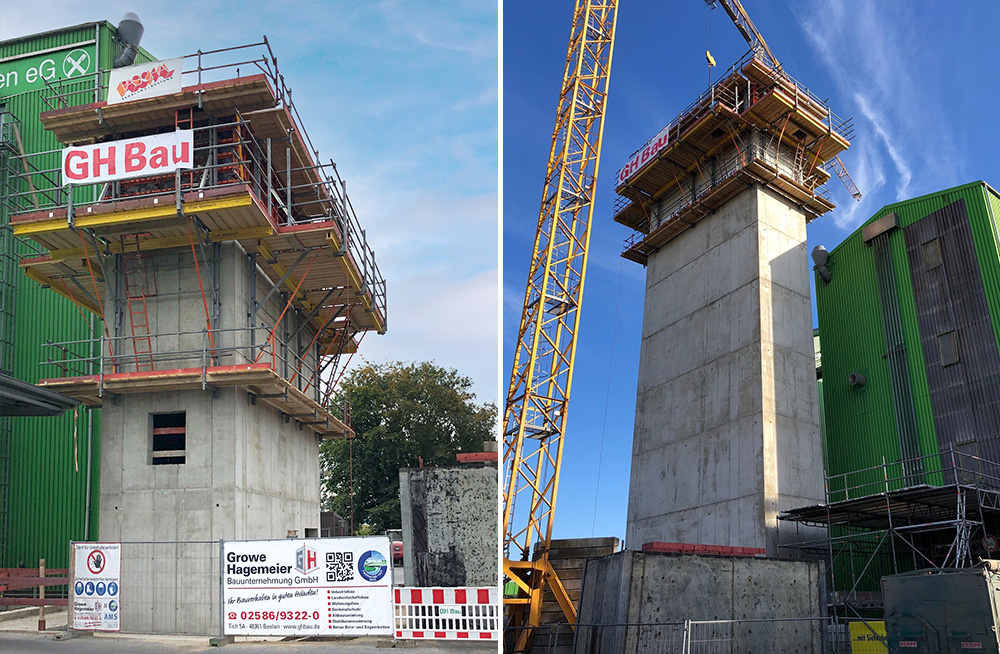 Section by section, the stair and lift tower in Beelen grew to a height of over 32 m.
From the base to the upper edge of the slab, the reinforced concrete structure measures 33.65 m
PASCHAL's formwork planning department had split the required concrete construction into 10 practical concreting cycles. The entire climbing formwork procedure was planned isometrically with 10 steps described in detail.
LOGO.3 wall formwork was used in combination with KK 240 climbing brackets. For the internal formwork units using LOGO.3, dismantling inside corner posts were included which speeded up dismantling and assembly enormously.
Formwork planning from PASCHAL also took into account on-site boards, connecting pieces, access ladders, fall protection, accident prevention regulations, etc.
"This planning service and the delivery of formwork and scaffolding materials as construction progressed meant that the shell construction schedule from July to December 2021 was adhered to exactly," says Michael Neuhaus, site manager at Growe Hagemeier Bauunternehmung GmbH.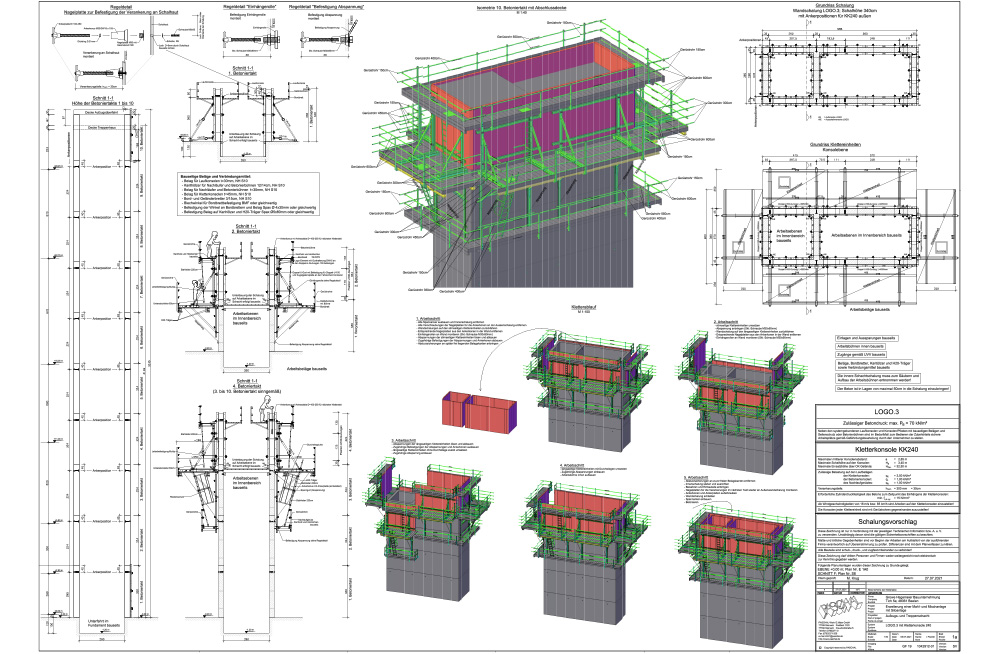 Work preparation at its best: In 10 formwork and concreting cycles from the foundation (base - 1.20 m) to the final slab at a height of 32.45 m.
«
Current News