Shuttering material for concrete walls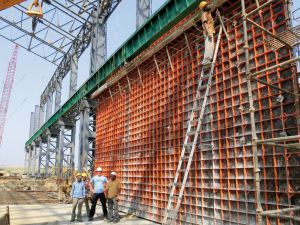 PASCHAL standard and custom shuttering material
Efficient and safe - PASCHAL standard and custom formwork have been optimized for an optimum Cost-Benefit ratio: System solutions for shuttering material must be perfectly adapted for any type of building project. It must be modular and it must be suitable for repeated use. Development also focuses on optimum handling qualities – for an increase in safety, versatility and efficiency in modern concrete constructions.
Wall formwork perfectly matched to any type of application
PASCHAL offers shuttering material for concrete walls that is perfectly matched to any type of application: The TTR and TTS circular formwork with trapezoidal girders and wooden or steel faces have been specifically designed with round walls in mind. The NeoR lightweight formwork, available in numerous dimensions and compatible with large-size elements, is suitable for small, tall and complicated concrete shapes. Large-area walls can be realized with the large-size formwork LOGO.3 and LOGO.pro with one-sided anchor system, while building sites without crane are served with the light-weight LOGO.alu version.

The modern type of wall formwork developed from simple planks and boards, with which various shapes were constructed - very time-consuming work, which generally only had a short lifespan. In PASCHAL's modern system steel formwork, almost all materials can be used over and over again. Construction sites have become faster, more cost-effective, more efficient and safer.

PASCHAL offers sophisticated, perfectly customised formwork solutions with various systems for any kind of wall:
Straight walls
Walls with projections, corners and edges on uneven surfaces
Rounded, conical, spiralling, ellipsoid, or oval wall cross-sections
Fair-faced concrete
High load-carrying capacity for fresh concrete

All these - and more - can be produced cost-effectively with the relevant formwork system.