Software
Software for the formwork planning: Comfort combined with planning dependability
Planning dependability and predictable, transparent processes are indispensable for successful construction processes. The IT-specialist planitec is a member of the PASCHAL-Group who has developed modern, easy-to-use software systems for these fields of application which encompass all functions necessary for the perfect planning and organization of building processes: Starting off with automated formwork planning using PASCHAL-Plan light and continuing with differentiated AutoCAD formwork planning with PASCHAL-Plan pro, right up to using the RFID (Radio Frequency Identification) process with PASCHAL Ident for the organization and administration of modern formwork parks.



PASCHAL Ident
The PASCHAL Ident-Technology has become a world-wide success: it assigns formwork modules a discrete electronic identification number which makes the tagged item identifiable – this is a process made possible by modern transponder technology for the first time in the field of formwork modules. PASCHAL's software provides previously unattainable planning dependability and ease of administration: these advantages are also available as an added benefit for the PASCHAL Modular Universal Formwork and the PASCHAL large-size formwork LOGO.3.
PASCHAL Ident offers added benefit when it comes to financing details: transponder-tagged formwork modules may be offered as collateral to Finance Institutions for the financing of "Formwork systems including accessories". By applying software from PASCHAL the use of formwork can be planned optimally. Thus formwork drawings and necessary material lists can be established.


PASCHAL-Plan light - automated formwork planning
The formwork planning and warehouse management software PASCHAL-Plan light (abbreviated to PPL) supports every building contractor or planning engineer in large building firms so that the use of formwork can be planned to the very best and the site can be supplied in due time with the necessary equipment available in the warehouse. For this reason, PPL 11.0 consists of two modules. Complete formwork plans are created fully automatically with the 'Design' module. You manage your entire building yard warehouse and current construction projects with the 'Warehouse' module.


PASCHAL AR app - Mobile use of digital models
In order to optimise processes surrounding form-work planning, alongside BIM, PASCHAL also relies on augmented reality (AR). The PASCHAL AR app makes it possible to present the planned formwork solution in original size on an area in real surroundings by means of a smartphone or tablet. The result in the AR app shows the respective current state of planning – this makes formwork even easier and verifiable for the construction management team according to the current planning.


PASCHAL-Plan pro - formwork planning with AutoCAD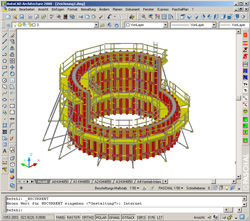 PASCHAL-Plan pro (PPP) can handle the most demanding formwork projects. The application provides predefined elements, for which data has been prepopulated. That means that formwork elements can only be placed at correct positions, and relevant accessories can only be used at their predefined locations on the element. The software provides 2D and 3D views.


PASCHAL Maturix - Intelligent concrete monitoring in real-time
During the concreting process, the involved parties are confronted with many challenges: A lack of real-time insight into the concrete maturity status, time-consuming data acquisition and processing as well as error-specimens prevent a swift and smooth concreting process. PASCHAL Maturix is the solution for this! An analysis of the concrete strength is carried out by means of intelligent, wireless radio transmitters – this allows both improved planning and real-time monitoring independent of location and time.