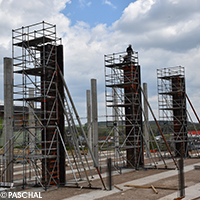 23.08.2021
A simple formwork solution for slender and extremely high reinforced concrete columns
Column formwork using the LOGO system for a warehouse, for when it needs to be good, quick and cost-effective.
LOGO.3 formwork can be used for flexible column formwork when quality and cost-effectiveness is required. It was used for this year's new construction project carried out by St. Hippolyt Mühle Ebert GmbH.
The flourishing company from Dielheim, Germany with its own construction department has been a regular customer of PASCHAL for many years. The company that specialises in high quality animal feed constructed an additional large warehouse this year at their headquarters in Dielheim.
Three formwork sets each consisting of four LOGO multi-purpose panels, adjustable props of different lengths and multi-walers were used as rental equipment to construct the tall and slimline reinforced concrete columns.
The supervising formwork consultant from PASCHAL designed the column formwork using the PASCHAL-Plan light (PPL) 12.0 software on behalf of Thomas Schneider, the construction manager of St. Hippolyt Mühle Ebert GmbH's internal construction department. This formwork planning software from planitec GmbH is a new dimension in planning in BIM engineering.
Four LOGO multi-purpose panels (270+240+270+240) were arranged in accordance with the windmill sail principle to the useful forming of the 21 approximately 10-metre high reinforced concrete columns with a cross-section of 30 cm/ 60 cm. Each column was formed and concreted in two height phases.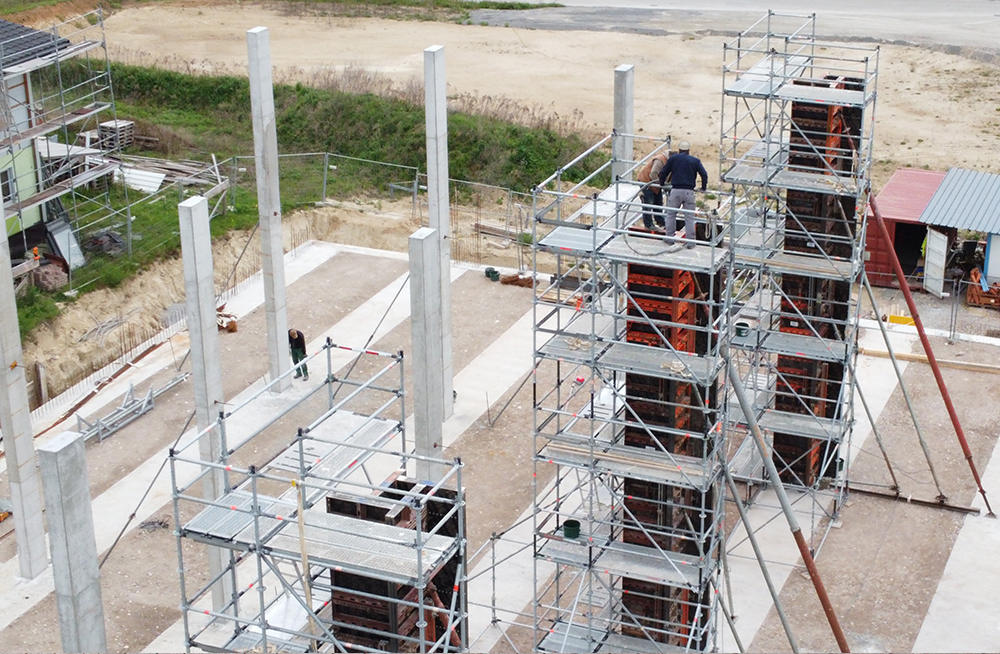 21 concrete columns with a height of 10 metres and strong reinforcement will support the low sloped roof of the warehouse facility with dimensions of 44 m by 40.5 m in the future.
There were several benefits that arose for the client due to the PASCHAL system being used. The 21 reinforced concrete columns were able to be created quickly, cost-effectively and precisely with the best concrete surface with low formwork and scaffolding costs.
As a result of the excellent experiences they have had using PASCHAL systems and the reliable services provided, Thomas Schneider, the construction manager of the company's internal construction department, has turned to PASCHAL for reinforced concrete structures for many years. In this way, he obtains everything from just one source, well organised, practical in every detail and pre-planned at the best conditions, exactly like his employer, St. Hippolyt Mühle Ebert GmbH.
«
Current News