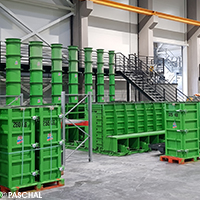 08.12.2020
PASCHAL formwork makes concrete (props) of any shape
Steinach-based formwork expert PASCHAL supplies a Hungarian prefabricated plant with high-quality, easy-to-handle special column forms with 30 different cross-sections.
For special fields of application such as formwork for columns, pillars and shafts, PASCHAL works in close coordination with its customers to achieve tailored formwork solutions for unusual geometries and high frequencies of reuse.
This was the experience of Hungarian precast concrete elements manufacturer PREbeton Zrt. in Erdőtelek, a subsidiary of Market Építő Zrt., one of the leading general contractors in the Hungarian construction industry.
The product range is due to be expanded with standing heavy-duty props with oval, square and circular column cross-sections suitable for exposed concrete.
Varying geometries
For precast concrete elements, time and cost savings are key, as are short production times, high quality and precision. In order to meet these specifications, the formwork used to produce the precast element is extremely important with regard to dimensional accuracy and the concrete surface.
The PREbeton plant manager was familiar with the high quality of PASCHAL from previous collaborations, which is why the formwork expert from Germany's Black Forest was awarded the contract to deliver the new column forms.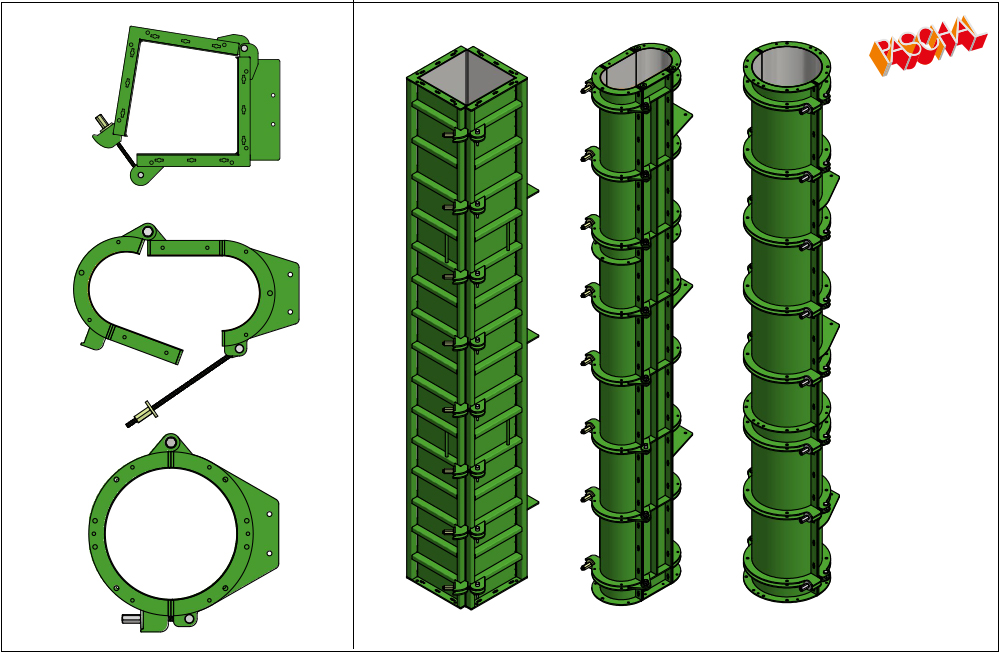 Each column form is made of two half-shells, connected together by a lateral jointed piece. One of the half-shells is bolted firmly to the bar using a mounting plate.
In total, PASCHAL produced 68 column forms with 30 different cross-sections, in heights of 150 cm and 450 cm. As a special highlight, the formwork panels were delivered in the company colour, RAL 6018 yellow-green.
PASCHAL special formwork impresses in terms of quality and handling
PASCHAL's building-specific formwork and its formwork for precast elements are designed according to customer requirements, perfected with the client, and finally produced to very high quality standards in PASCHAL's own manufacturing department. All the precast elements, of every shape and size, must be able to be formed and, due to the large number of pieces to be produced, the formwork used must guarantee a long life and quick formworking times.
Despite the very different cross-sections, the formwork has been designed and produced so it doesn't need to be taken apart for stripping and setting. All the formwork is divided into just two assemblies that are coupled using a connecting joint piece and can therefore simply be folded. In addition to the joint piece, a quick-release fastener ensures a secure connection when concreting. This guarantees quick stripping and setting times.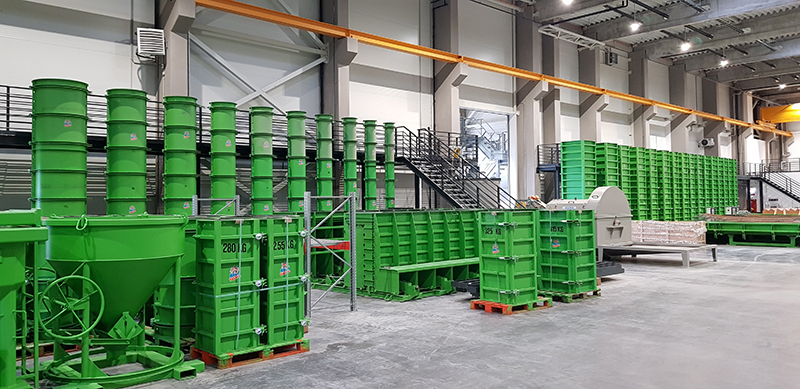 Whether oval, square or circular column forms, PASCHAL once again impresses with its tailor-made formwork solutions.
«
Current News