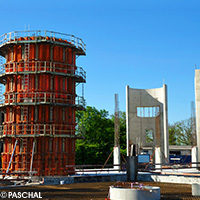 23.11.2021
When it comes to intricate circular shapes, then PASCHAL is the only way to go
Soprema, a waterproofing and insulation manufacturer, is fulfilling its entrepreneurial spirit in the port of Strasbourg with a futuristic complex for its future company headquarters, in which it is investing around 45 million euros.
On a 15,000 m² plot in the port of Strasbourg, over 8,000 m² of office, floor and presentation spaces are being built according to the design plans of architects Maison Édouard François, whose ideas prevailed against the competition. The construction was planned by architects Denu and Paradon.
The new headquarters will serve as an 'application showroom' for Soprema's building products, give employees room to develop and should attract new talent to continue the company's story well into the future.
PASCHAL and the circular structures
Formwork specialist PASCHAL is collaborating on one of the most spectacular buildings, which has the appearance of a succession of silos. Indeed, there are several ways that circular shapes come together here. This exceptional building complex will house generously sized offices and the representative company restaurant.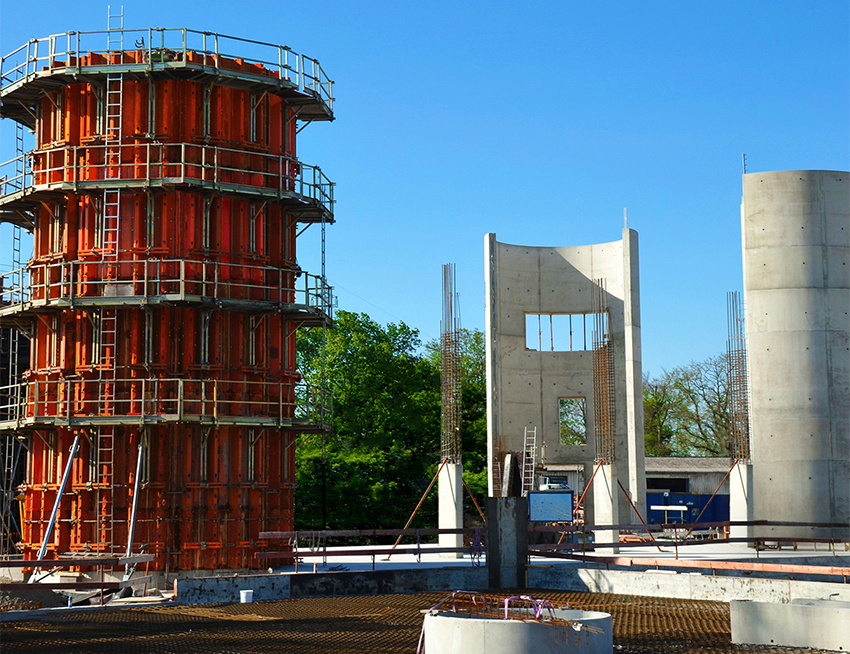 12 circular reinforced concrete structures – built with Circular trapezoidal girder formwork system from PASCHAL – constitute the base of one of the most spectacular building design on the large Soprema construction site in the port of Strasbourg.
Twelve times round
To construct the reinforced concrete structures of the 'silos', the contractor, regular PASCHAL customer MADER S.A from 68502 Guebwiller, is relying on all of PASCHAL's formwork expertise.
To ensure the 8 semi-circles and 4 3/4 circles are perfectly aligned, two formwork systems were combined - TTS Circular trapezoidal girder formwork with steel facing on the outside and TTR Circular trapezoidal girder formwork with plywood on the inside - and extended with fillers and special wedges.
All 12 circular concrete shells have a consistent wall thickness of 30 cm and are narrowed in pairs to a 25 cm wide reinforced concrete column on the inside. All the circular reinforced concrete structures reach a uniform height of 13.50 m. The concrete sectional joint is consistently planned at 8.45 m and has been designed with the panel combination for the construction company by the engineering department.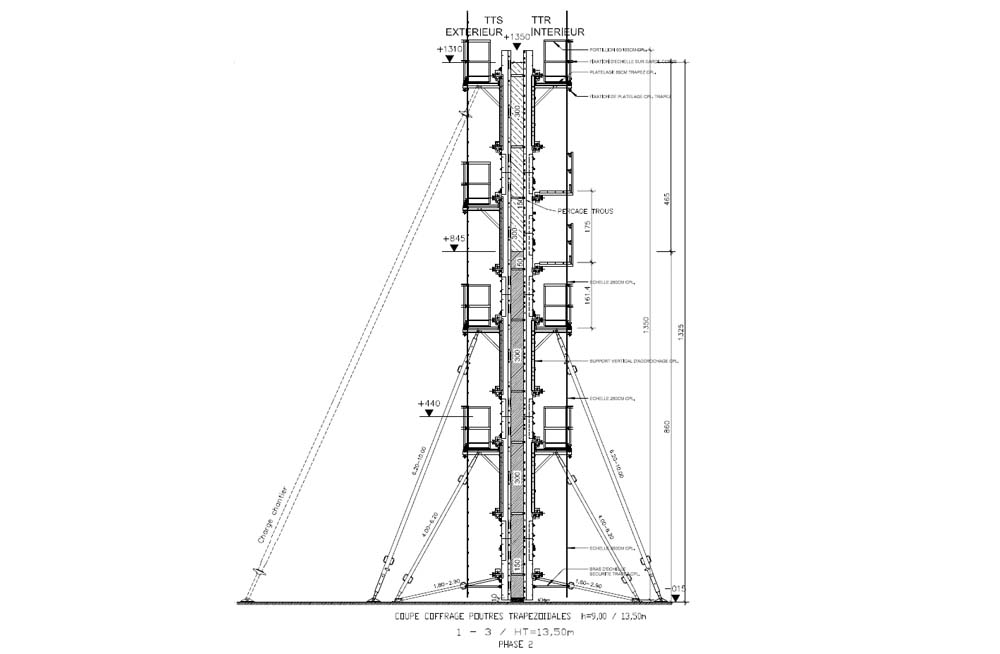 The highest reinforced concrete half shells reach over 13 m in the air. In compliance with the particularly pronounced occupational safety and accident prevention regulations in France, all provisions have been followed by PASCHAL in the formwork and equipment plans.
The Multip - Multi-functional working platform is exceptional as a secure and protected working and concreting platform.
For this, the PASCHAL formwork experts had to take into account that some concrete shells are supported by protruding flat-roofed building sections and therefore have different heights. When planning the formwork, special attention was given to positioning the tie rods, fillers, the construction joints, the height differences and recesses, as the outside concrete wall was constructed purely as a fair-faced concrete structure.
In addition, occupational safety provisions and accident prevention regulations in France are particularly comprehensive and strict. This also needed to be taken into account during formwork planning in the form of concreting platforms. For outside formwork it has been put in practice consistently with the Multip - Multi-functional working platform with the highest safety standards - and a combination with Multip and platform brackets for inside formwork.
For the large Strasbourg construction site, around 500 m² Circular trapezoidal girder formwork is being used on site as rented formwork, divided into approx. 220 m² TTS - Circular trapezoidal girder formwork with steel facing and approx. 270 m² TTR - Circular trapezoidal girder formwork with plywood.
As all PASCHAL systems and additional components are mutually compatible, the formwork planning was quick and easy to set up on the construction site. Formwork planning was done using PASCHAL-Plan Pro (PPPro) for a precise and detailed representation of the arrangement of the panels and accessories.
«
Current News