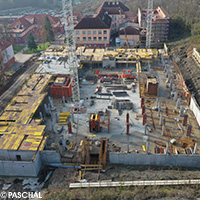 20.01.2022
Major new building for mental health rehabilitation constructed with support from PASCHAL
For the construction of the new mental health rehabilitation centre in Beroun, the construction company has opted for formwork, shoring systems and expertise from PASCHAL.
To improve psychiatric care provision in the Central Bohemia region in the Czech Republic, a new mental health rehabilitation centre is currently being built in Beroun over a 25,000 m² area. Psychiatric and psychological care as well as physical treatments will be available for up to 150 patients. The unit will be part of the Beroun hospital.
The building complex with underground car park will include modern treatment facilities and therapy rooms as well as a swimming pool, a fitness room and a theatre for 280 people.
Total costs amount to about CZK 1.4 billion (approx. EUR 54 million), which will be raised entirely through private financing.

PASCHAL formwork and shoring systems were used for the formwork work of the new centre for mental health rehabilitation.
Architectural building complex made of reinforced concrete
The building features several cantilevers and will be serviced by four internal vertical cores with lifts and staircases. The building has been embedded in the existing terrain so as not to spoil the overall architectural character of the hospital complex and views to the valley.
A total of 13,500 m3 of concrete and 1,570 tonnes of reinforcement have been used to construct the solid structure of reinforced concrete and masonry. For the concrete work, the company carrying out the building work, Construction Team s.r.o. from Prague, a long-standing regular customer of PASCHAL s.r.o., opted for formwork and shoring systems from PASCHAL.
Around 6,500 m² of formwork in use
The tried-and-tested Modular/GE universal formwork was used to form the foundations with a formwork area of 1,120 m². The modular system allows the formwork to be adapted to any floor plan and height with centimetre precision, eliminating the need for filler pieces to be used on site. The reinforced concrete walls and columns on all floors have been constructed using LOGO.3 wall formwork.
The PASCHAL Deck flexible slab formwork system, consisting of plywood, H20 beams and slab props, was chosen for slab-forming an area of around 27,300 m². To support the loads during concreting, Construction Team s.r.o. also uses the GASS aluminium shoring system, which, with an authorised load-bearing capacity of up to 140 kN per leg, is considered to be the most load-bearing aluminium shoring system on the market.
A total of around 500 m² of Modular/GE universal formwork, 880 m² of LOGO.3 wall formwork and 5,000 m² of PASCHAL Deck have been used.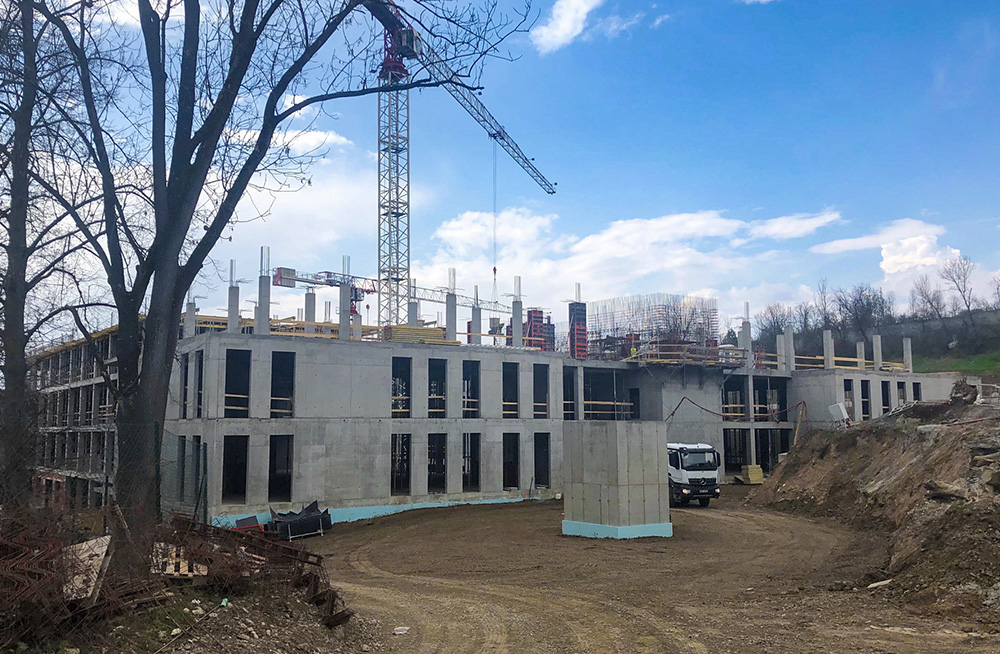 All reinforced concrete walls and columns for the multi-floor building have been constructed using LOGO.3 wall formwork.
PASCHAL impresses with know-how and service
In addition to the reliable supply of materials, the construction company could also rely on PASCHAL's expertise and experience in formwork planning. The application engineering department at PASCHAL s.r.o was involved in the construction project from the very beginning and delivered a detailed and practical formwork concept in close coordination with the other parties involved in the project. The concept was created using the company's own PASCHAL-Plan light formwork planning software.
A particular difficulty was constructing one-sided load-bearing walls to stabilise the slope, as an adjacent slope below the motorway had come loose after excavation work had been carried out. PASCHAL then used a single-sided formwork solution with supporting jacks and special anchoring.
Construction is currently on schedule, so that completion at the end of 2022 will probably happen as planned.
«
Current News