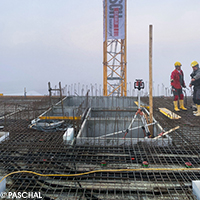 12.04.2021
Top-quality and efficient construction achieved with PASCHAL Maturix
To complete the construction of a hotel building shell on time within a tight schedule, the construction company involved is employing the PASCHAL Maturix intelligent concrete monitoring system.
The ground-breaking ceremony for a new Business & Tourist hotel in Lenzing, a town in the Upper Austrian region, took place on 14. July 2020 on a site measuring 4.200 m² near Lake Attersee. This modern 90-room building is being built primarily for business people, but also aims to provide tourists with a pleasant place to stay.
It is expected to open its doors in the autumn of 2021 - which means that the construction of this new hotel should be completed in just twelve months.
The greatest challenge for this building project is therefore the set final completion date of summer 2021.
Consequently, as soon as the project was launched, this target was set for 2020, and included completion of the building shell with windows, doorways and roof in order to enable drywalling and interior completion work to commence on 7 January 2021. This in turn meant that just eight working days were available for the building shell work on the walls and reinforced concrete floors of each storey.
Good time management and carefully thought out procedures were therefore essential in order to meet the deadlines of this tight schedule.
However, since the hardening of concrete is affected by external factors such as weather, wind and ambient humidity, it is not possible with any precision to determine the progress of concrete to its ultimate strength unless tools are used.
PASCHAL Maturix optimises the concreting process
To make optimum use of the dismantling process right up to the last floor and to assure the quality of the reinforced concrete floors under deadline pressure, the construction company Schmid Hochbau GmbH decided to use the PASCHAL Maturix intelligent concrete monitoring system, starting with the slab above the fourth floor.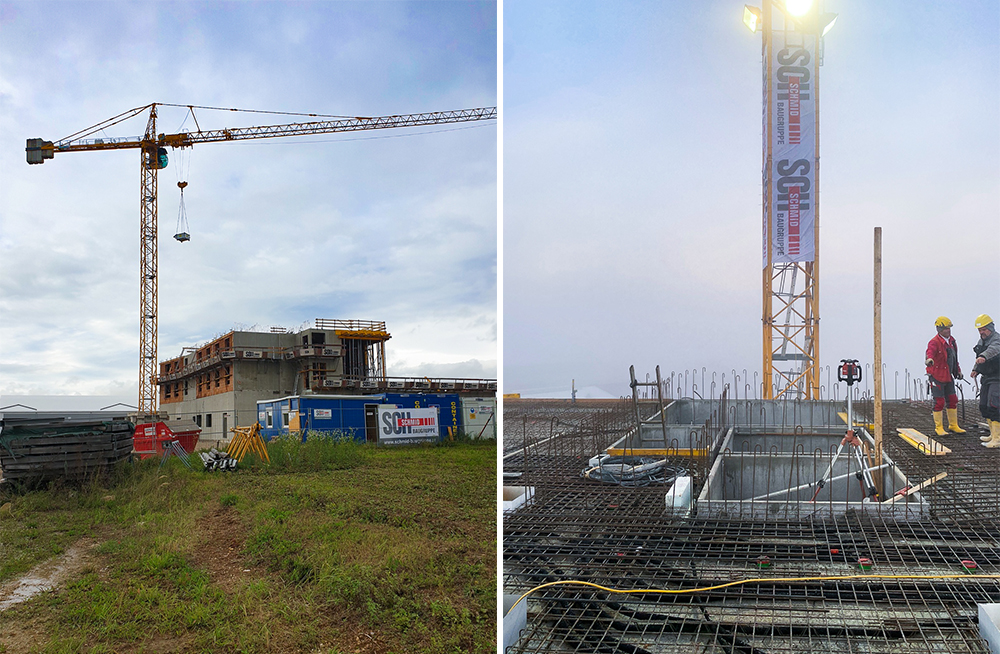 To complete the reinforced concrete floors on schedule, Schmid Hochbau GmbH is employing PASCHAL Maturix, an intelligent concrete monitoring system. This has made it possible to keep waiting times to a minimum while also assuring high quality standards.
In the warm summer months, this added real value by substantially shortening the dismantling times and requiring only a small amount of required formwork. It was also possible to avoid the use of costly backpropping.
Even during the cold weeks of November, it proved possible to rely on the data evaluation of Maturix and to establish the optimum dismantling time. This helped to assure quality, to prevent deflection problems and also to keep waiting times to a minimum.
Full satisfaction
This project was the first time that Schmid Hochbau GmbH made use of PASCHAL Maturix. The ability of this intelligent concrete monitoring system to work with any type of formwork system, along with its favourable rental terms, makes it genuinely impressive.
Head of Works Ing. Markus Baier, MBA was very satisfied with the way the entire project was conducted, and with his collaboration with PASCHAL. "We quickly developed a great working relationship with PASCHAL because of its proximity to Bavaria and the fact that we also run projects in southern Germany through our German subsidiary. The levels of support and customer care were comprehensive and straightforward!", stated the CEO of Schmid Hochbau GmbH.
Insight into the hardening process of concrete in real-time
PASCHAL Maturix, the intelligent concrete monitoring system is a powerful tool for an efficient concreting process that keeps waiting times to an absolute minimum.
Thermocouples and wireless sensors are used to continuously measure the internal temperature of the concrete and transmitted wirelessly to the user-friendly Maturix software. The software automatically calculates the concrete maturity and strength on the basis of temperature characteristics data and the concrete mixture. This means that the setting process of the concrete can be tracked from any location, in real-time and also on mobile terminal devices.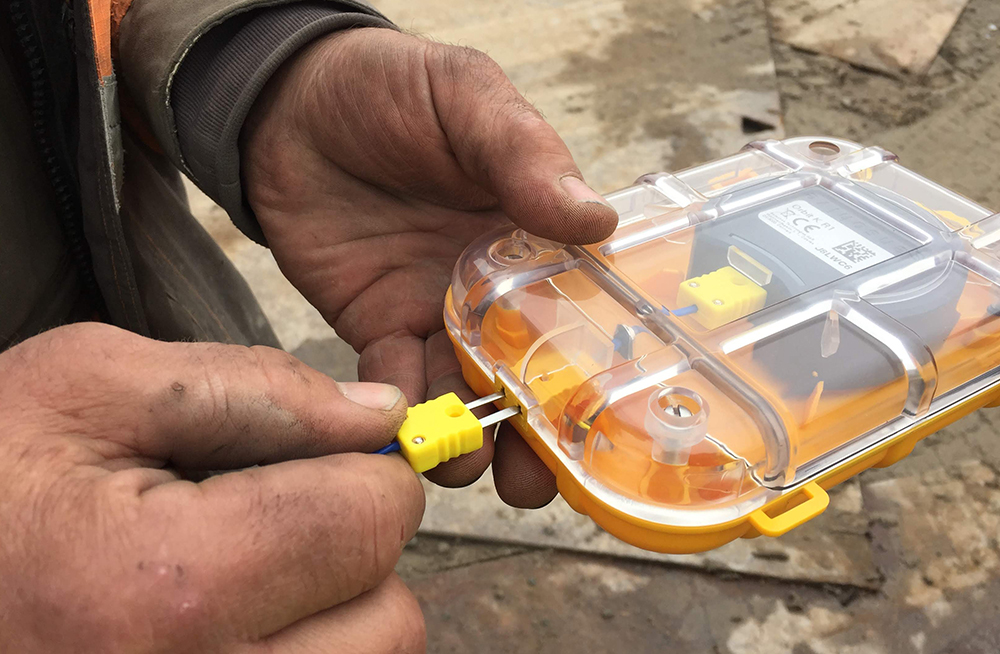 Thanks to made-to-last hardware, wireless data transmission and user-friendly online-software, PASCHAL Maturix is a powerful tool that is easy to use to run an efficient concreting process.
«
Current News