19.08.2022
PASCHAL presents formwork for optimal concrete construction at bauma 2022
It's back in October 2022: The largest construction trade fair in the world will once again open its doors in Munich, Germany. Formwork and shoring expert PASCHAL will be presenting its innovative and customer-oriented formwork solutions and the PASCHAL all-round service for formwork projects in its approx. 1,000m² exhibition space.
As is the tradition, PASCHAL-Werk G. Maier GmbH will be represented as a formwork and shoring expert at the bauma trade show. That's why the entire PASCHAL team is especially happy that the world's largest construction trade fair can still be held in times of the pandemic. Despite the special challenges in organising the trade fair, PASCHAL is very confident about the upcoming trade fair and is looking forward to the personal exchange with visitors and of course to the special atmosphere of bauma.
This year, PASCHAL is presenting itself at the approximately 1,000 m² exhibition stand FN.618/2 with a completely revised stand concept in order to be well prepared for all scenarios. What this specifically means is: an increased focus on the outside area with numerous exhibits from the PASCHAL product portfolio, newly divided, airy room concepts and a well-conceived ventilation and hygiene concept.
Less weight – better performance – NeoR lightweight formwork
The NeoR lightweight formwork combines the benefits of the proven Modular/GE universal formwork and the LOGO.3 wall formwork system, while offering all the features of modern lightweight formwork at the same time.
The maximum weight of a NeoR lightweight formwork panel is just 40 kg for the 90 x 150 cm panel. It can therefore be assembled or moved by two people and the smaller panel dimensions are easy to manually assemble or move on the construction site without requiring cranes or other transport aids. At the same time, the NeoR lightweight formwork boasts significantly higher fresh concrete pressure absorption properties of 50 kN/m² compared to the Modular/GE universal formwork.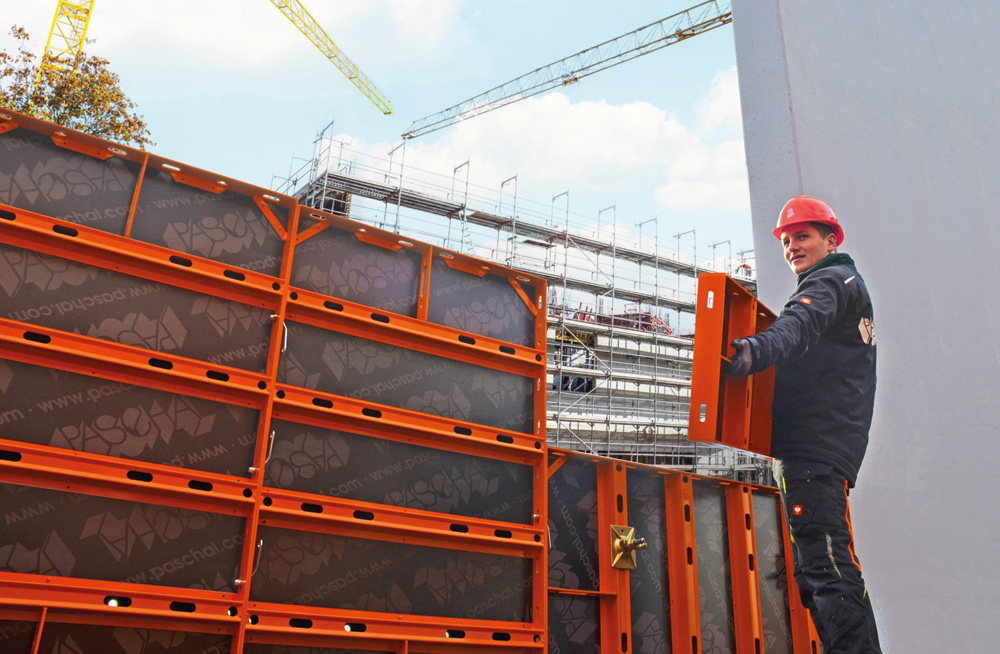 Whether it's for a new construction or refurbishment — easy handling combined with high flexibility and cost efficiency is made possible with the light formwork panels of the NeoR lightweight formwork from PASCHAL.
Achieve more with LOGO wall formwork systems
Large panels, fewer connecting pieces and easy handling are the defining features of LOGO wall formwork from PASCHAL. Thanks to the well-balanced range of panel dimensions, LOGO can be used to form any layout very economically. Exposed concrete surfaces are also easy to create. The solid flat steel frame and high-quality finish make LOGO one of the most durable wall formwork systems on the market.
In addition to the classic LOGO.3 panels, the light aluminium formwork LOGO.alu for construction sites without a crane as well as LOGO.pro with formwork anchors that can be operated from one side will be exhibited in the LOGO corner "All advantages at a glance".
The LOGO.pro wall formwork system can easily be converted from double-sided to single-sided anchoring using a sophisticated changeover system. Both anchor variants use standard material. Cladding tubes can also be selected as required. This means that LOGO.pro not only impresses with optimised processes with fewer personnel requirements or in confined spaces, but also with its simplicity and cost-efficiency.
The LOGO tie points saver model will demonstrate to all visitors that no other formwork system can operate with so few clamping locations as LOGO.3 — saving you time and reducing your material costs and expenses for labour on the construction site!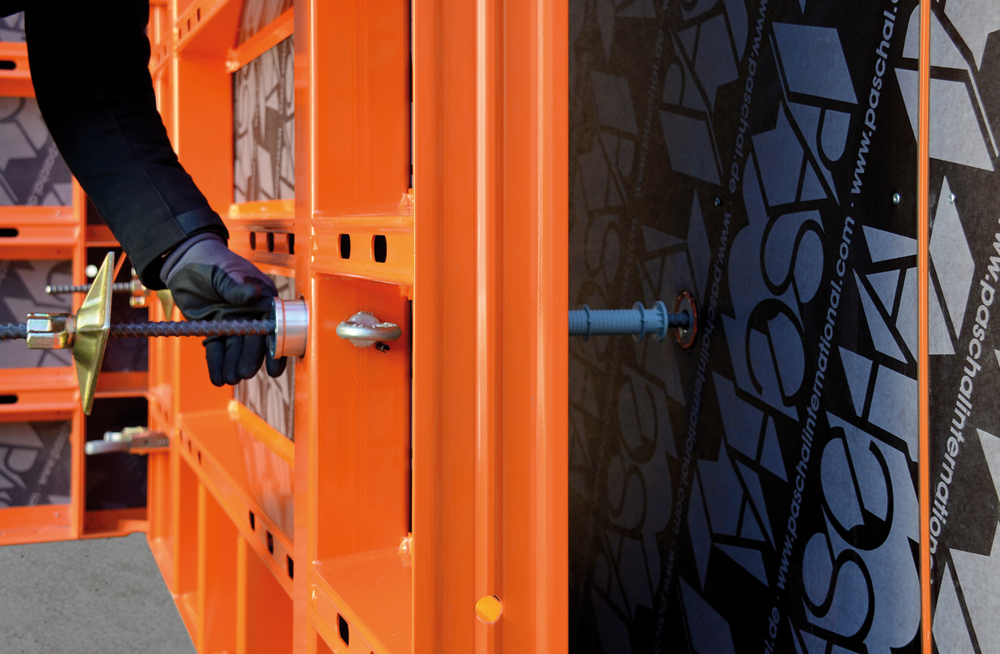 The LOGO.pro wall formwork system can easily be converted from double-sided to single-sided anchoring using a sophisticated changeover system. Both anchor variants use standard material — LOGO.pro impresses with reduced personnel requirements, simplicity and cost efficiency.
Comprehensive work safety with PASCHAL
PASCHAL work safety systems provide both maximum work safety and maximum cost effectiveness, as their ideal handling and compliance with the highest security standards ensure a fast and problem-free construction process. In addition to the LOGO concreting platform and the Multip multi-functional working platform for straight and round wall formwork, PASCHAL is presenting the new lateral protection system Secuset at bauma 2022, which can be used for a number of different applications in formwork and many other fields of work concerning shell construction or expansion. As a temporary lateral protection, Secuset meets the requirements for funding from the BG BAU. It supports companies with investments in work safety and subsidises selected products, including the purchase of posts and accessories for anchoring temporary lateral protection.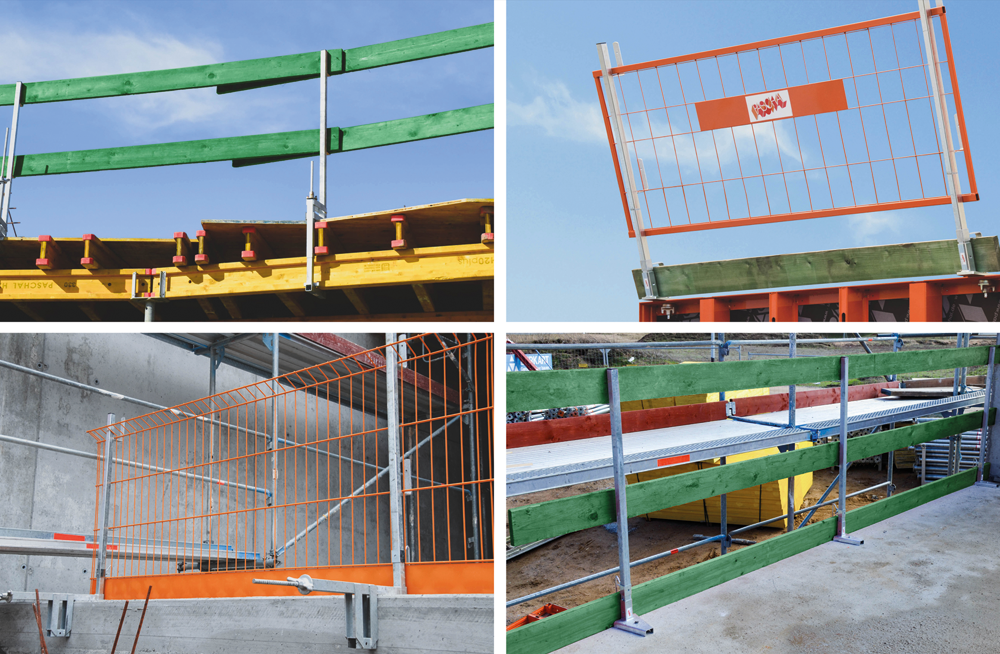 With Secuset, PASCHAL offers a simple, safe and at the same time universal lateral protection system in accordance with safety standard DIN EN 13374. As a temporary lateral protection, Secuset meets the requirements for funding from the BG BAU.
Discover the variety of the PASCHAL product range
PASCHAL will also have additional highlights from its product range to display to visitors:
Using systems to form concrete haunches or underground car park exits — with the continuously variable circular trapezoidal girder formwork
Numerous efficient solutions for the foundation area with the system formwork LOGO.3, LOGO.alu, NeoR Lightweight formwork and Modular/GE universal formwork
Circular and square column formwork for effective and economical concreting without concrete bleeding
LOGO.3, NeoR and Modular inside corner posts for exceptionally fast and simple forming and dismantling in shafts.
Slab props in a number of different extendable sizes and classes:
The intelligent PASCHAL Maturix real-time concrete monitoring system for efficient concreting processes — now with new GAIA sensors for extreme durability and even easier handling
Fully automatic, BIM-capable formwork planning with the software PASCHAL-Plan light 12.0
Brand new products from the formwork accessories sector, such as the assembly screw as a secure screw anchor for a powerful and time-saving fastening solution
All-round service for formwork projects
The versatile services make PASCHAL one of the leading service providers when it comes to formwork and software. These include:
highly qualified technical advice;
formwork planning with the innovative and BIM-capable planning software PPL 12.0 and PPpro;
structural calculations through to custom constructions;
property-specific preliminary assembly;
reliable construction site supervision;
various financing models;
cleaning, repair, renovation and general overhaul;
formwork in your company's colours;
seminars and training courses;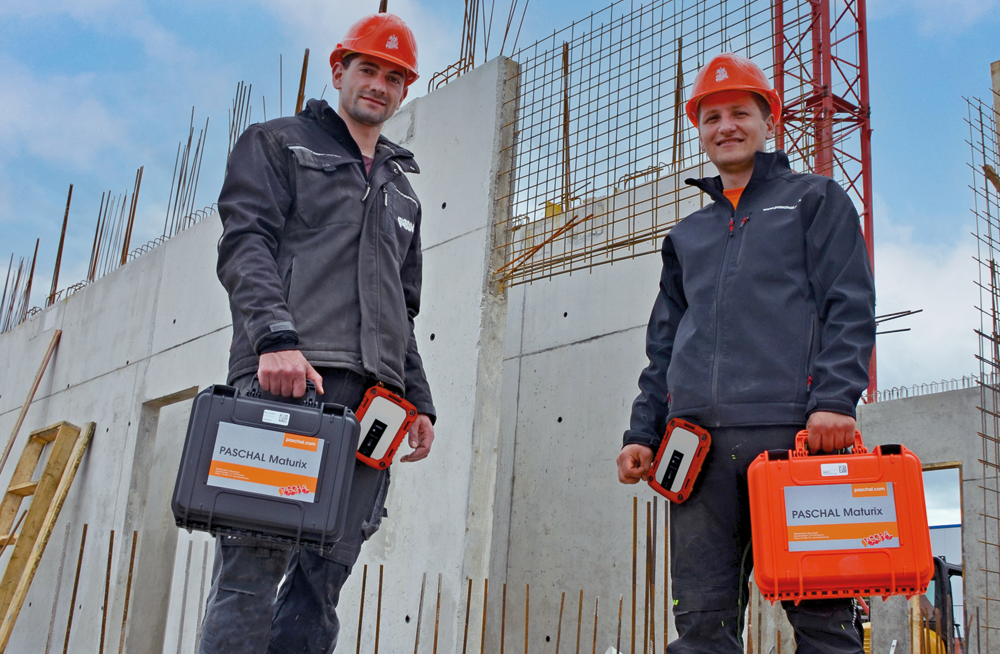 PASCHAL supports its customers even during the concreting process: PASCHAL Maturix enables intelligent real-time analysis of the concrete strength, ensuring the optimal time for removing the formwork and guaranteeing an exposed concrete surface feel.
Product highlights presented digitally
In addition to the classic trade fair appearance in Munich, PASCHAL also offers an innovative VR experience directly at the trade fair stand.
PASCHAL will be presenting both proven and brand-new formwork and propping products to visitors in its digital showroom. A virtual construction site environment will show the systems being used directly on the construction site, and innovative software will make automated formwork planning a reality.
With the parallel, browser-based application, interested parties from all over the world can also gain an insight into the PASCHAL portfolio — and all from the comfort of their own home. Of course, the formwork experts will also be available to directly answer questions or to exchange ideas in this regard via live chat.
Visit us at stand FN.618/2 in the North open-air area (or also digitally) and experience efficiency in combination with formwork, software and service. We look forward to seeing you there!
«
Current News