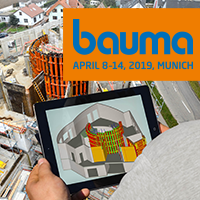 05.02.2019
PASCHAL stands for sustainability and will be presenting "Efficiency in Combination" with formwork, software and services at bauma 2019
It's back in April 2019: The largest construction trade fair in the world will once again open its doors in Munich, Germany. Formwork and shoring expert PASCHAL will be presenting its innovative and customer-oriented formwork solutions in its approx. 1,000-m² exhibition space.
As is traditional, PASCHAL-Werk G. Maier GmbH will be represented at bauma 2019 as a formwork and shoring expert. This year, visitors can expect to find both a new location and a revised, modern concept for the stand.
Open the "door to the formwork world" and experience the comprehensive PASCHAL product range at close quarters - with the numerous outdoor area exhibits:
Achieve more with LOGO.3 and LOGO alu
PASCHAL LOGO.3 is the centre-point of bauma 2019. Large panels, a small number of connecting pieces and simple handling enable quick and economic formwork with this system. Furthermore, thanks to the large-size panels with a formwork height of 340 cm and continuous plywood, LOGO.3 is ideally suited for exposed concrete and industrial construction. Additional advantage: The solid flat steel frame and high-quality processing give the LOGO.3 wall formwork one of the longest service lives on the market. PASCHAL stands for sustainability.
In the LOGO corner "Wünsch dir was" (make a wish), the classic LOGO.3 panels will be displayed alongside LOGO.S with its steel facing and platform brackets with guard rail posts for special areas of application and LOGO alu manual formwork. As the lightweight formwork with the aluminium frame can also be moved by hand, it is ideally suited for any construction site without a crane and for work in existing buildings.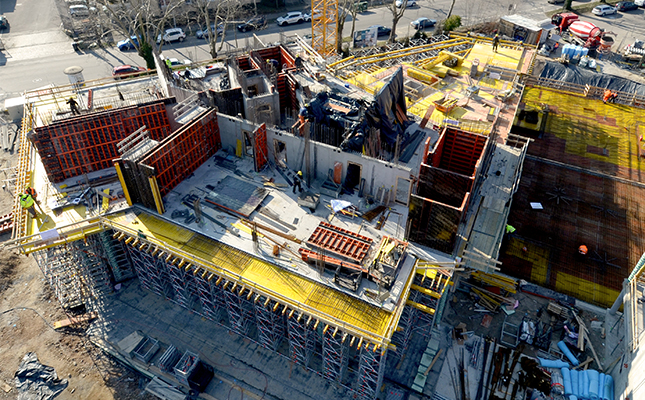 The flexible LOGO.3 wall formwork system can cope with all of your formwork jobs thanks to the comprehensive range of panels with system parts only.
The LOGO tie point-saver model will demonstrate to all visitors that no other formwork system can operate with so few tie points as LOGO.3 - saving you time, material costs and wage costs on construction sites.
PASCHAL will also take advantage of bauma 2019 to present a new product in the LOGO product range - the new multi waler for LOGO.3. This innovation can be used as an extension post or as a highly versatile waler. Advantage: its light weight.
Comprehensive occupational safety with PASCHAL
PASCHAL occupational safety systems provide both maximum occupational safety and maximum cost effectiveness, as their ideal handling and implementation options when pre-assembled ensure a fast and problem-free construction process. Alongside the LOGO concreting platform and the Multip multi-functional working platform for straight and circular wall formworks, PASCHAL will make use of bauma 2019 to present its new PASCHAL lateral protection that can be used for a range of different applications.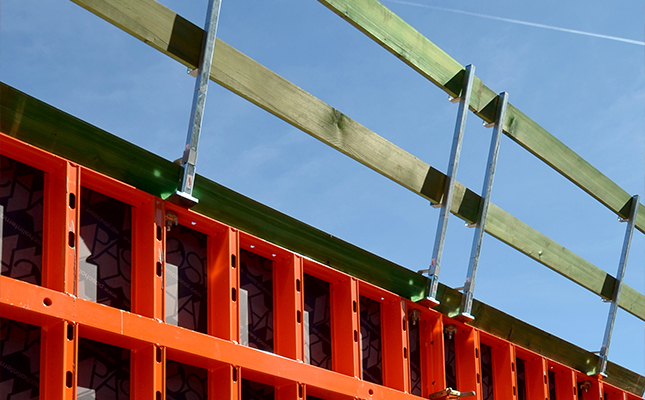 For increased occupational safety on construction sites: the new PASCHAL lateral protection system, compliant with the EN 13374 safety standard.
Working on concrete shafts
The PASCHAL anchoring system has been developed from practical experience and greatly simplifies work on shafts. With the anchor cone, approved by the building authorities, PASCHAL can now offer a unified anchoring system suitable for all climbing and platform systems: whether the 240 climbing system, 200 climbing installation, KBK 180 climbing platform, SPK 270 dam bracket or the PASCHAL lifting platform.
More than just an off-the-shelf formwork system
PASCHAL considers itself a pioneer in the market in terms of implementing customised formwork solutions. Special requirements, such as customised panel sizes, functional profiles for connecting pieces or manufacturing of galvanized panels, mean that PASCHAL formwork systems can be specially adapted to a wide range of customer requirements. You may also like to take advantage of the almost unlimited options offered by specialised formwork solutions.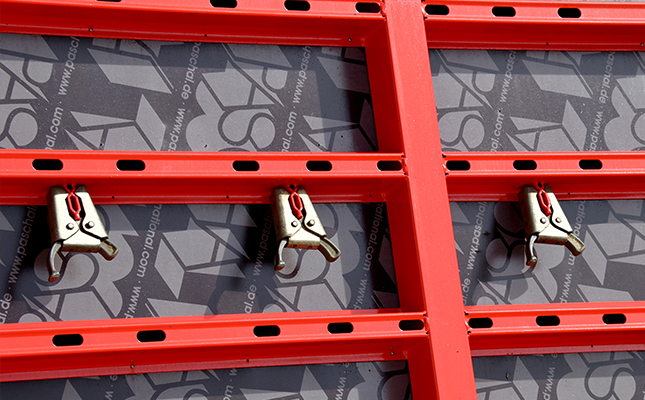 PASCHAL offers its customers off-the-shelf formwork systems and also allows customer-specific adaptations, such as the surface coating in company colours. Functional profiles for connecting pieces are part of the delivery in standard version of large-size LOGO.3 formwork elements from February 2019.
Discover the variety of the PASCHAL product range
PASCHAL will also have additional highlights from its product range to display to visitors:
Using systems to form concrete haunches or underground car park exits - with the continuously variable TTR/TTK/TTS circular formwork systems
Numerous efficient solutions for foundation areas with the LOGO and Modular formwork systems
Circular and square column formwork for effective and economical concreting without concrete bleeding
The tried and tested PASCHAL Deck slab formwork with main and cross girder construction, H20 beams and slab props
LOGO.3 and Modular dismantling inside corner posts for particularly fast and simple forming and dismantling in shafts
Functional profiles for connecting pieces are standard for large-size LOGO.3 formwork panels from February 2019.
Innovative formwork planning with BIM-compliant PPL 12.0 software
Software solutions for digital construction and planning are of fundamental importance to medium-sized enterprises today. With the fully automatic PASCHAL-Plan light 12.0 formwork planning software and its IFC4 interface, PASCHAL Group company planitec will offer customers a BIM-compliant software tool that can also be used for inventory control.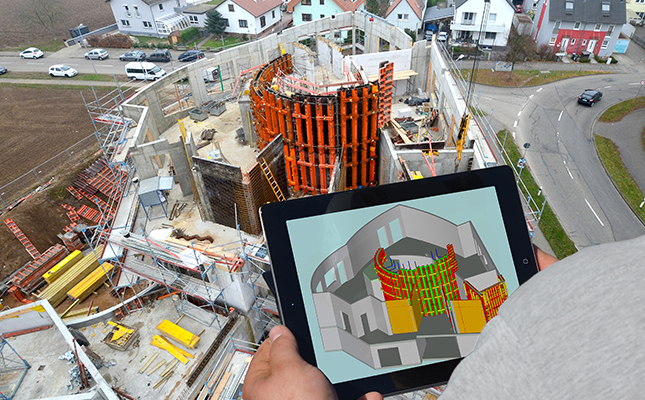 Formwork planning made easy - with the fully automatic PASCHAL-Plan light 12.0 formwork planning software. The new IFC interface also allows all relevant geometrical and formwork information to be exchanged with all BIM-compliant programs.
Inside, the new forum will provide sufficient space for interested visitors to experience the exciting features and qualities of PASCHAL products. We will feature daily expert presentations on a wide range of subjects:
10.30 a.m.: LOGO.3
11.15 a.m.: BIM in practice
12:00 p.m.: AR app + PPL 12.0
1.30 p.m.: Special steel formwork
2.15 p.m.: Circular formwork
3.00 p.m.: Occupational safety
In its "Concept Store", PASCHAL will present exciting product innovations, such as the newly developed AR app, which enables life-size 3D drawings to be displayed on any given surface using a smartphone or tablet.
Visit us at stand FN.618/2 in the North open air area and experience efficiency in combination with formwork, software and service. We look forward to seeing you there!
«
Current News