18.10.2021
NeoR lightweight formwork expanded to include new accessories
To make handling the new NeoR lightweight formwork even easier, PASCHAL is expanding the product portfolio with four new accessories.
With its NeoR formwork system, PASCHAL is offering a new lightweight formwork that combines the benefits of the proven Modular/GE universal formwork and the LOGO.3 wall formwork system, as well as all the system properties of modern lightweight formwork.
Four new accessories now enable even better handling when aligning and transporting NeoR formwork panels:
NeoR transportation angle for 12 panels
Loading auxiliary N/R
NeoR waling clamp 10-20 cm
Clamping support, length 6-24 cm L/N/A
Quicker and safer transport of NeoR formwork panels
The new NeoR transportation angles or loading auxiliaries can be used to move or load stacked NeoR panels.
Two to twelve NeoR panels, 90 cm and 150 cm in height, can be transported with four transportation angles. The topmost and bottommost panels must have the same width. Further panel pairs can be stacked in between if the width of the extra panels fits within the width of the two base panels.
The integrated bolts on the underside of the transportation angles make it easy to fasten them to the NeoR panels.
Additional advantage: the NeoR transportation angles can be stacked, so that two packs can be placed on top of each other.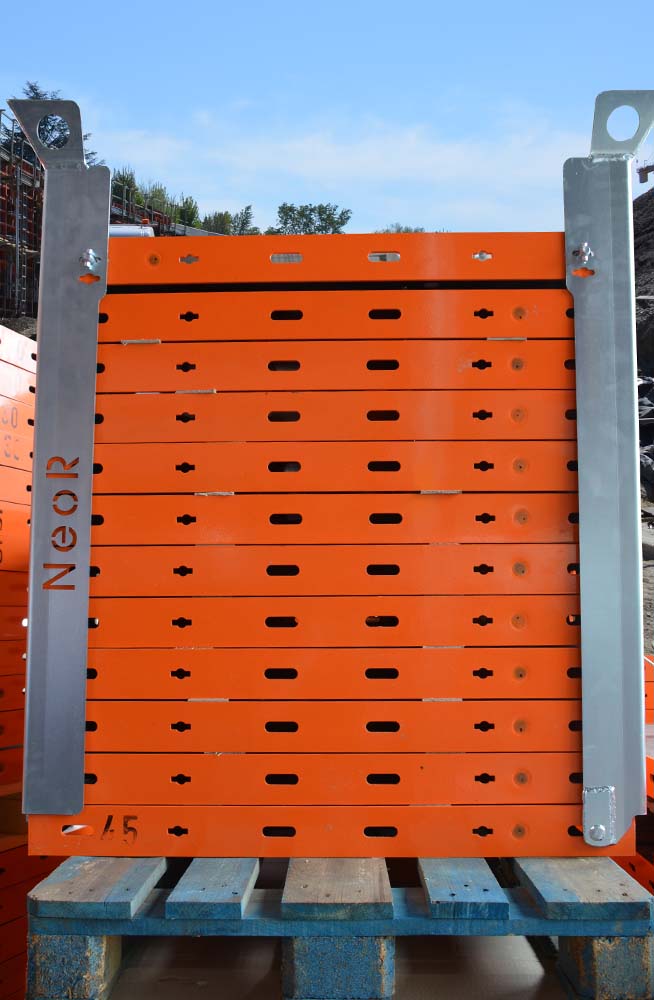 The new NeoR transportation angles can be used to move or load up to 12 stacked NeoR panels.
As an alternative to transportation angles, NeoR panels can also be transported using four loading auxiliaries per stack. With an admissible capacity of 400 kg, up to 8 NeoR large-size panels can be moved or loaded in this way.
The first bolt hole in the panel frame serves as the attachment point for the loading auxiliary. As they share the same frame profile, the loading auxiliary can also be used for panels from the Modular/GE universal formwork.
Thanks to the integrated crane eyes, the stacks can then be easily and safely loaded and transported by crane.
Simple formwork alignment
To ensure a better alignment of the NeoR lightweight formwork over longer distances, H20 beams or squared timber are fastened to the NeoR panels.
This is done using the NeoR waling clamp and clamping support at both start and end of the beam and on every second or third panel in between.
The NeoR waling clamp is inserted into the oblong hole and the clamping support is pushed through the waling clamp.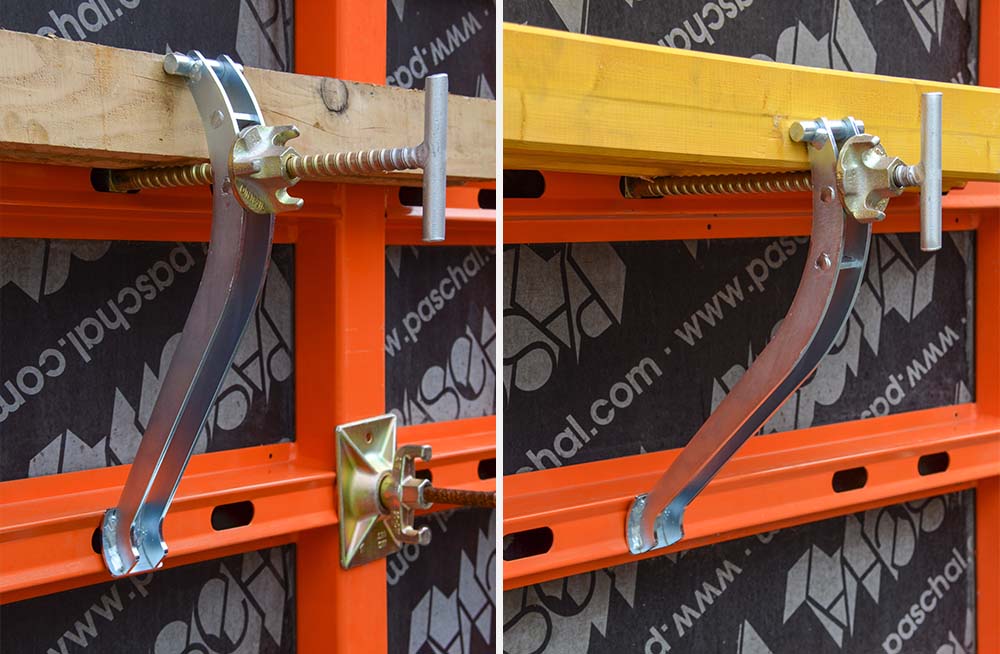 H20 beams or squared timber can be fastened to NeoR panels thanks to the NeoR waling clamp and clamping support.
Available immediately
The new accessories are available to order from PASCHAL sales staff, your personal consultant or the company's online shop www.formwork-shop.com.
«
Current News