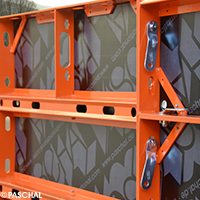 03.11.2022
Innovative NeoR lightweight formwork as a further development of the Modular universal formwork
Less weight, better performance – With the new NeoR formwork system, PASCHAL offers a modern lightweight formwork system that offers impressive versatility and a clever design.
The NeoR lightweight formwork combines the benefits of the proven Modular universal formwork and the LOGO.3 wall formwork system, while at the same time offering all the system properties of modern lightweight formwork. NeoR can be used universally and is therefore ideally suited for the construction of foundations, beams, columns and walls.
The formwork panels of the NeoR lightweight formwork have a maximum weight of just 41.3 kg on the element 90 x 150 cm. It can easily be assembled and moved in twos and smaller panels solely on site by hand without a crane or other transport aids. At the same time, the NeoR lightweight formwork boasts significantly higher fresh concrete pressure absorption of 50 kN/m².
A further advantage of the new formwork system is the low overall height of only 7.5 cm, which ensures particularly low storage and transport volumes.

In addition to the proven function profiles for attaching accessories, the NeoR has practical internal oblong holes that serve as handles for easy moving of the panels.
Well-designed panel assortment
The optimum panel assortment ranges from formwork panel widths of 15 cm to 90 cm in 15 cm increments, which will be available in both 90 cm and 150 cm heights. As a result, a floor height of up to 3 metres can be built with just one extension of panels. With NeoR, even large areas can be moved quickly and economically without any problems – this is where the large-size panel with 180 x 300 cm comes in useful. The range is supplemented by 5 and 6 cm filler posts for width adjustments and matching plastic filler pieces.
New NeoR multi-purpose panel offers an impressively wide range of possible uses
With the new multi-purpose panel of the NeoR lightweight formwork, the name says it all: Thanks to the additional perforated profiles, the multifunctional panel has a wide range of possible uses.
Four multi-purpose panels can be assembled quickly and simply into a flexible column form. In this way, square and rectangular column cross-sections can be formed with an adjustment range from 20 cm to 50 cm, and a gradation of 5 cm. The NeoR multi-purpose panels can be stacked to adjust the height of the formwork to the required concreting height.
The necessary safety at work is ensured by the Grip tread, which can be used as a working platform for the column form in combination with the Grip attachment.
In addition to its use as column form panels, the NeoR multi-purpose panel can also be used for the end stop and forming right angles.
The NeoR multi-purpose panels are available in the panel dimensions 60 x 90 cm and 60 x 150 cm.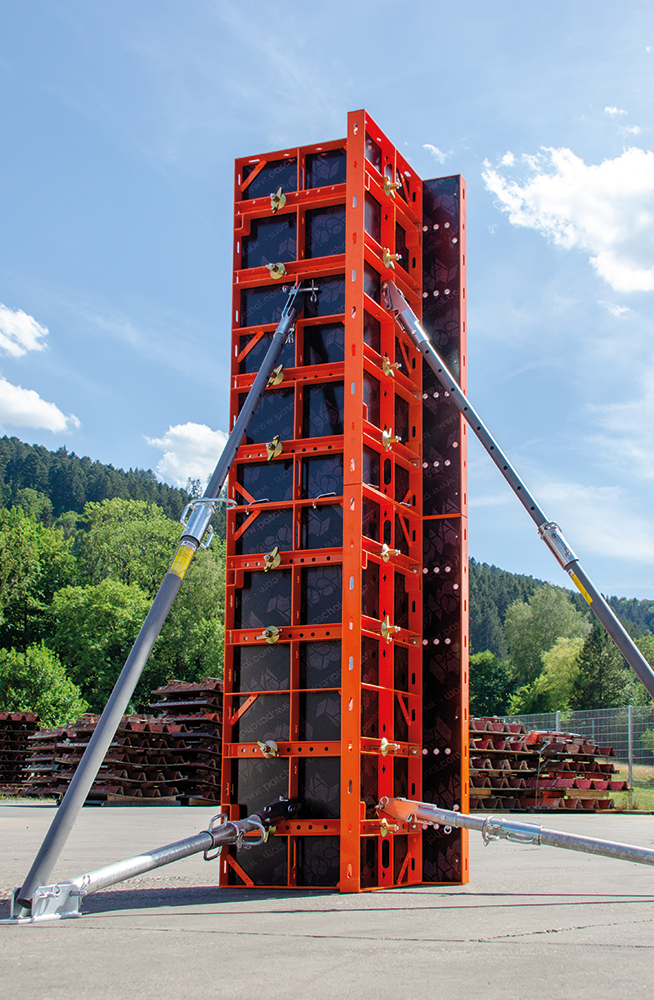 The NeoR multi-purpose panel has multi-hole profiles in 5 cm gradation in the frame — so any support cross-section can be produced.

System compatibility and components provides optimum user friendliness
As is usual for PASCHAL, the new lightweight formwork can be easily combined with all other PASCHAL formwork systems.
In addition, NeoR can be used with all accessories and connecting pieces from the Modular universal formwork system. Individual accessory parts from the LOGO series are also compatible with NeoR. This means that hardly any new accessories are required and existing parts can be used.
For even better handling when aligning and transporting NeoR formwork panels, PASCHAL now offers a range of new accessory parts for the NeoR lightweight formwork: The new NeoR transportation angles or loading auxiliaries can be used to move or load stacked NeoR panels.
To ensure a better alignment of the NeoR lightweight formwork over longer distances, H20 beams or squared timber are fastened to the NeoR panels. This is done using the NeoR waling clamp and clamping support at both start and end of the beam and on every second or third panel in between.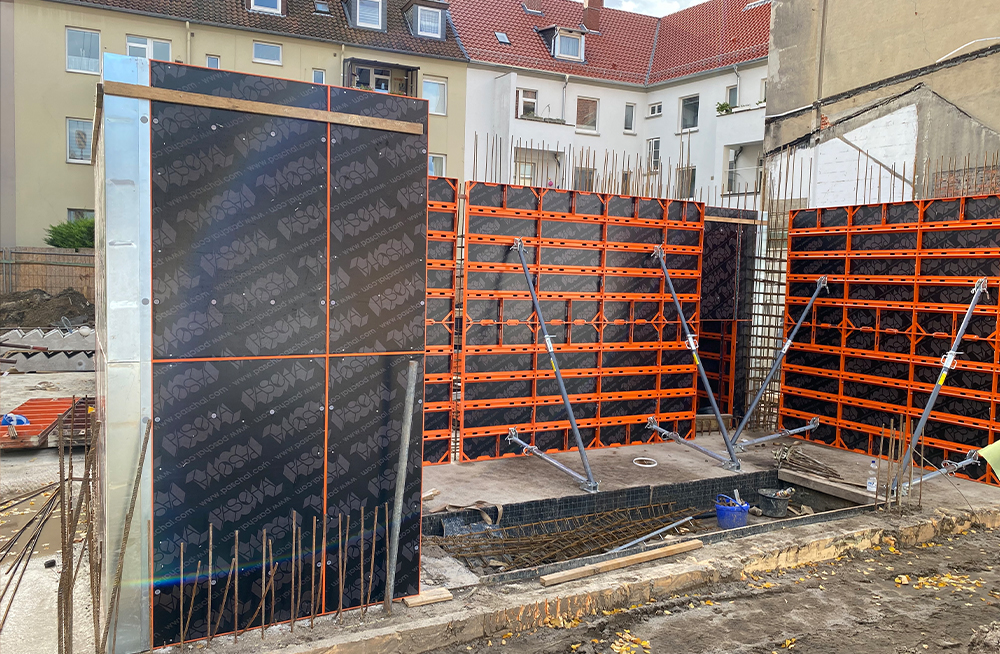 The NeoR is convincing on construction sites, here during the construction of an apartment building in Hanover.
«
Current News