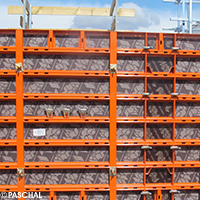 27.07.2020
Practical increase in efficiency with the LOGO. 3 thanks to fewer tie points
Intelligent formwork and formwork planning alleviates the problem of a shortage of skilled labour and time pressure. PASCHAL makes it possible and shows how it is put into practice.
Thanks to the well-balanced range of panels and the stable construction of LOGO.3 formwork, there are many practical ways of significantly reducing the number of tie points so that installing the LOGO.3 system is even more efficient without compromising in terms of safety.
The LOGO.3 wall formwork system is designed to withstand a high maximum fresh concrete pressure of 70 kN/m² with just 0.62 ties/m².
Especially in the prosperous housing construction sector with storey heights of up to 270 cm and the usual wall thicknesses and concreting speeds, the permitted fresh concrete pressure is often not achieved. That's why the LOGO.3 wall formwork system has sufficient reserves to be exploited.
Concrete workers are good at this, for example, when installing a small LOGO.3 panel between large-size panels measuring 240 x 270 cm or 340 x 270 cm. Fewer tie rods are needed resulting in less clamping work for the concrete workers.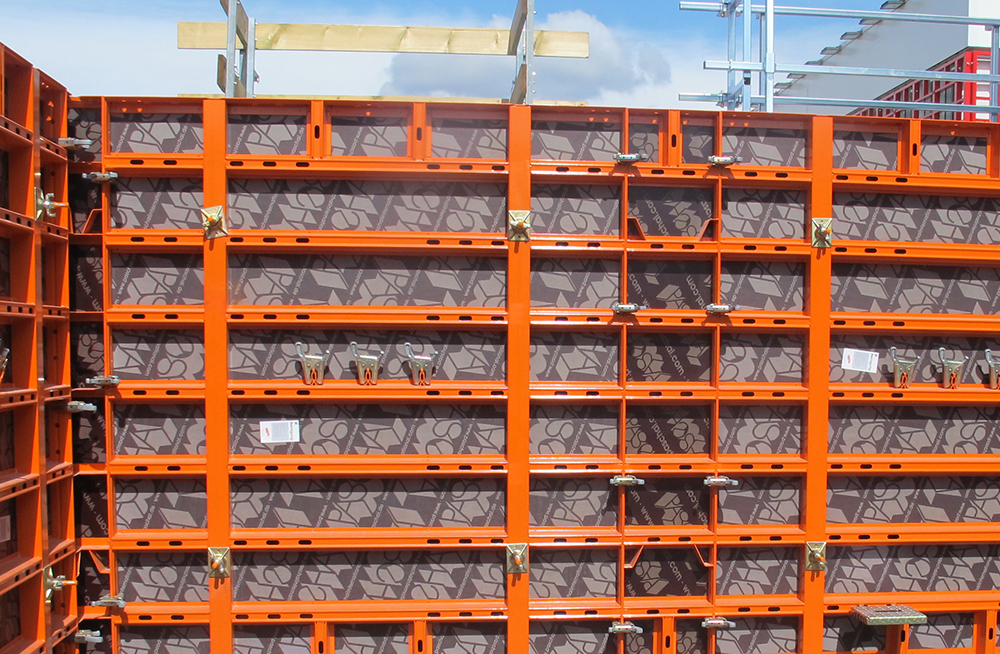 One large-size panel on the left and one on the right with tie rods and, in between, smaller LOGO.3 formwork panels, connected here with wedge clamps.
The tie points in the small panel are not required since the small panel forms a force-fit with the large-size panel through the use of the four connecting pieces, the wedge clamp. The ties in the large-size panels are sufficient to absorb the pressure safely.
The number of tie points can be reduced both on straight wall sections and with the formwork in corners. This is done whenever small and large-size LOGO.3 panels are combined. As such, 4 ties can be saved per corner.
Practical example for practical efficiency
In the case of a basement measuring around 10 x 10 m there would be 16 tie points assuming there are 4 corners and, with the use of small panels in the walls, a further 4 tie points could be saved in the middle. On average, based on the layout above, this results in 20 fewer tie points and provides a huge saving. Alone in terms of the ties, this is about 25%, and in terms of surface to be formed, there is a reduction in the forming time of approx. 6%.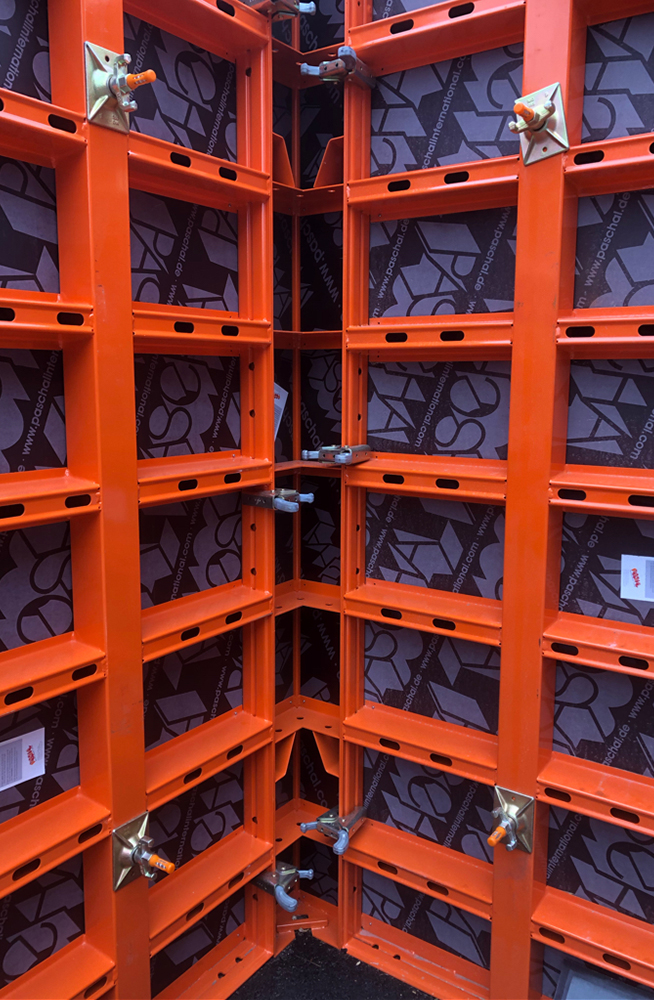 The number of tie points can also be reduced in the corner constructions by combining LOGO.3 large-size panels with smaller formwork panels from the LOGO.3 system.
«
Current News