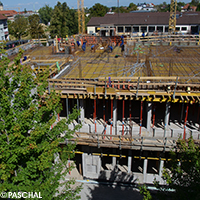 26.02.2021
Once you have experienced PASCHAL you will never go back
For the 3rd construction phase of the expansion of the Friedrich-August-Haselwander industrial and technical school in Offenburg, the construction firm Ritter-Bau GmbH has chosen to combine its own PASCHAL formwork systems with PASCHAL rental formwork to realise the numerous and primarily fair-faced reinforced concrete structures.
Concentrated educational opportunities
Following on from the 1st and 2nd construction phases in 2005 and 2008, the current third phase is the construction of an L-shaped school wing with 7380 m² of gross floor area and 5,000 m² of usable floor space for around 26 million euros in order to establish all previous school locations in one site.
Amongst other things, this new building will house students at the technical grammar school.
In addition to classrooms and computer rooms, science laboratories and workshops for electrical engineering are also being built. Teacher workrooms and open learning and lounge areas for students are also planned and will all be equipped with state-of-the-art digital technology.
Formwork concept takes the firm's own formwork into account
"Given that Ritter-Bau GmbH chose the formwork systems from PASCHAL because of their outstanding quality, it was clear that we could also only use PASCHAL for all additional rental materials so as to ensure compliance with the high quality requirements despite the tight schedule," explained the senior foreman Roland Ritter.
The reinforced concrete structures are characterised by numerous exposed surfaces, highly braced external wall structures, around 350 in-situ concrete columns with square and round cross-sections, rounded building shapes to be combined with steel structures for the glass façade.
To ensure that only the minimal amount of rental solutions were required to complement the company's formwork, PASCHAL developed solutions which took account of the limited storage space available on the site.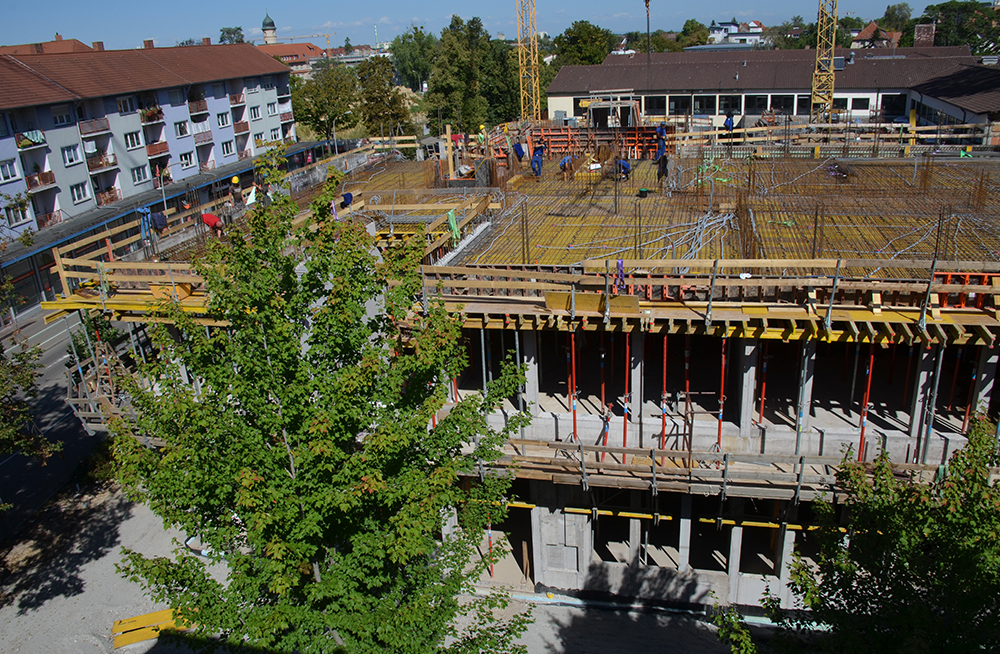 Ritter-Bau GmbH started the structural work on 20 November 2019 and, according to the construction schedule, the trades for the new building with a gross floor area of 7380 m² will be completed by the end of 2021.
A practical approach to formwork planning
For the fair-faced concrete structures, the LOGO.3 panels were fitted with special plywood upon delivery in order to fully comply with the architectural requirements. For example, 2 x 135 cm-wide plywood sheets with compensation panels were applied to the 270 cm-wide panels in order to ensure precise forming and prevent joint gaps in the concrete finish.
The Modular universal formwork combined with polygonal filler posts measuring 75 cm in height is being used for the round floor slab.
For the rounded wall structures in the basement, the construction company's own formwork was combined with around 65 m² of the TTR (Circular Trapezoidal girder formwork).
«
Current News