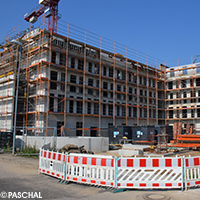 15.08.2022
Fast formwork for a large hotel complex
PASCHAL has proven that even large construction sites can be easily completed on time and within budget by using optimised logistical procedures and advanced formwork planning.
A new, Mediterranean style hotel complex is currently being built in Ringsheim near the Europapark. The L-shaped, five-storey, 16-metre-high hotel building will have 110 rooms and an underground car park. The hotel building will be surrounded by a total of 40 bungalow-type, one and two-storey residential units. Despite its imposing size, the building will blend harmoniously into its surroundings and, due to being located right next to Europe's most successful amusement park, will give visitors to the park a convenient option for overnight stays.
weisenburger bau GmbH from Karlsruhe is carrying out the construction work and has been a regular customer of PASCHAL for many years. weisenburger bau GmbH needs reliable partners for this project, so it has again opted for PASCHAL's all-round formwork services.
Rental material service: Top products, top quality
The entire building complex is being constructed in concrete and fully formed using formwork from PASCHAL's rental park. The material deliveries have been organised according to the scheduling and cycle planning and provided in the required quantity and quality at the required time.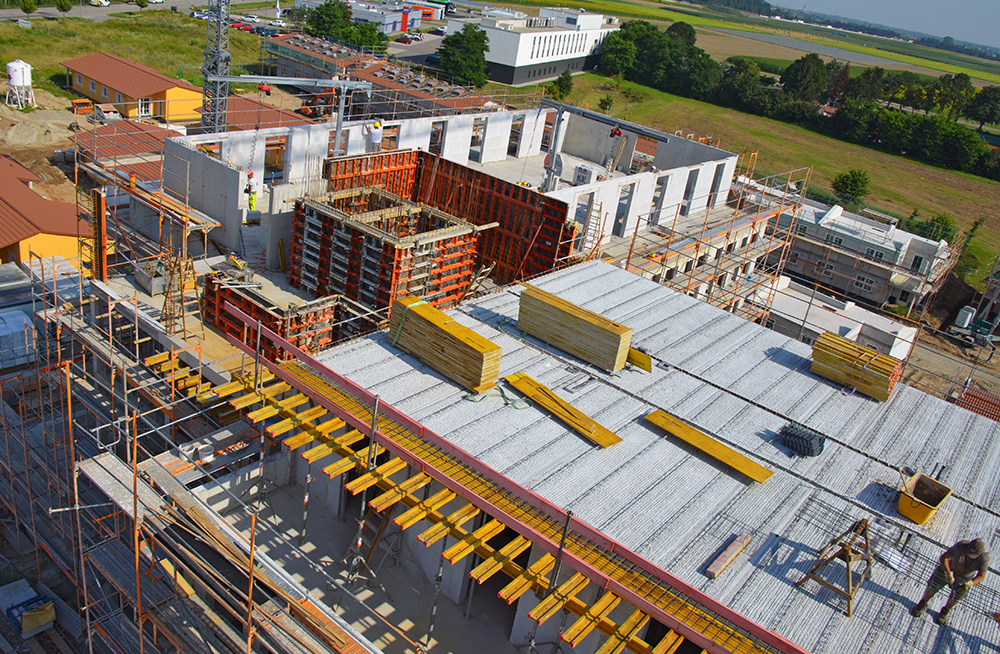 PASCHAL's user-friendly formwork and advanced formwork planning also impressed in this project.
The project has enabled LOGO.3 to demonstrate its benefits as a versatile wall formwork system: the floor slab, all wall surfaces and shafts have been built with the system using just 430 m² of shuttering material at a formwork height of 270 cm. Additional formwork panels at 135 cm height were used as extension formwork for the walls on the ground floor.
LOGO.3 Wall formwork also impressed the site foreman at weisenburger bau GmbH, who praised its ease of use and flexibility.
The system has a good assortment of panels to enable adaptation to any layout – without the need for on-site length adjustments. With fewer tie points, very good forming times and an excellent concrete finish, the LOGO.3 wall formwork system is a top-class formwork solution suited to a wide range of construction projects.
Around 1,300 m² of the flexible PASCHAL Deck Slab Formwork with yoke-beams and cross-beams was used on site to construct the floor slabs.
Rounded underground car-park access was formed and monolithically cast using 112 m² of TTR Circular Trapezoidal girder formwork at a formwork height of 450 cm and in combination with LOGO.3 wall formwork.
Even small inside-radii from two-metres can be achieved using standard materials in the TTR Circular Trapezoidal girder formwork to give fully circular and dimensionally accurate formwork. This makes TTR the ideal choice to achieve perfectly rounded shapes of any kind.
To enable quick and uncomplicated installation, the formwork segments were pre-rounded and and delivered to site ready for immediate installation.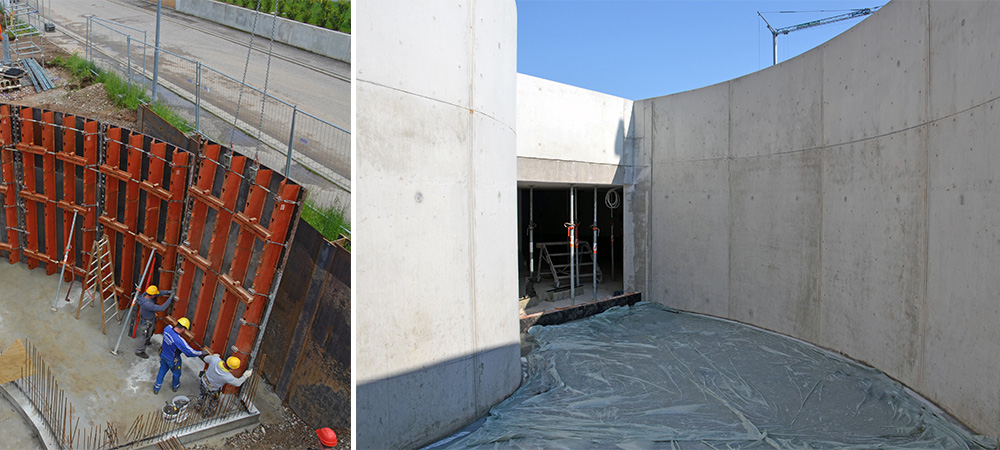 The rounded access to the underground car park could be concreted monolithically using TTR Circular Trapezoidal girder formwork in combination with LOGO.3 Wall formwork. Pre-rounded formwork segments were provided as a special PASCHAL service.
Customised all-round service
The PASCHAL team not only provided large quantities of wall and slab formwork on time, but also ensured that all other requirements were met and that the schedule was adhered to.
PASCHAL's technical department in Steinach therefore developed an advanced formwork plan for the walls, lift shafts, slabs and ramp, achieving a uniform formwork finish with well arranged concrete joints.
Closely coordinating the construction phases with site management ensured problem-free completion within the available time frame for the construction schedule. This enabled the shell structure be completed as early as August 2021 and within a period of just 5 months.
The hotel is scheduled to open at the end of 2022.
The weisenburger bau GmbH site foreman and manager in this project were therefore highly satisfied with the excellent and dependable teamwork with PASCHAL as well as with its formwork and scaffolding systems.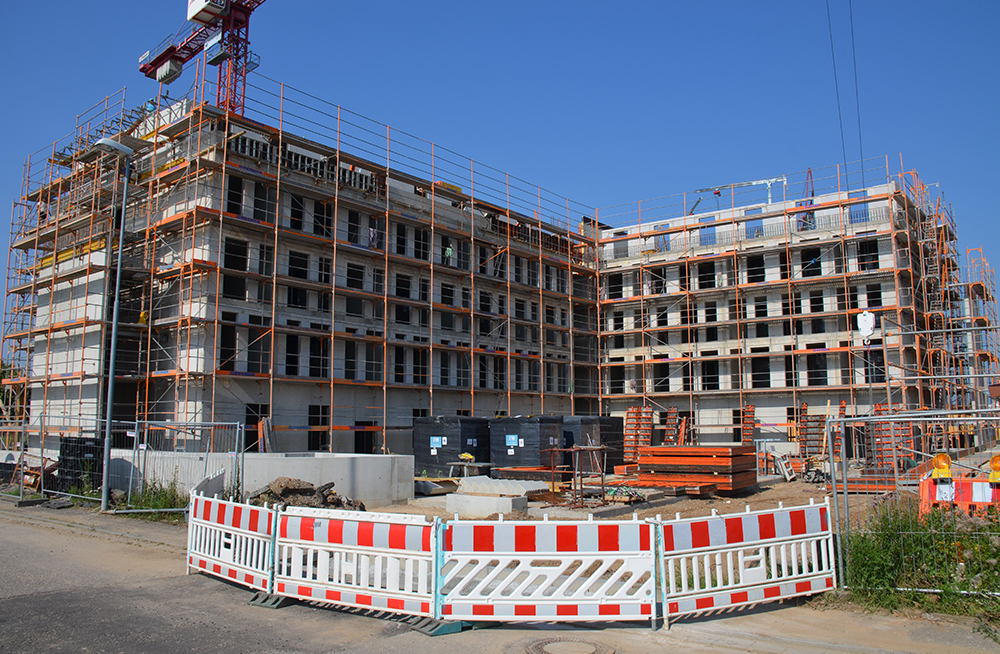 The hotel complex's shell construction was completed quickly despite the narrow time frame.
«
Current News