25.08.2022
PASCHAL creates the basis for a commercial building construction for Arpitha Constructions
In Hyderabad (India) the 8 storied and 25-metre-high commercial Tower was built. PASCHAL Form Work (India) Pvt. Ltd. is supplying the formwork for all the cast-in-situ parts for this project and thus enabling the construction work to proceed quickly and easily.
The building consists of one tower with two basement levels and 6 upper floors providing a floor space of around 2400 square metres.
Being Arpitha's own construction and maintenance, they are looking for cost effective and versatile formwork solution to cater the whole formwork requirement with more repetition and less quantum of material.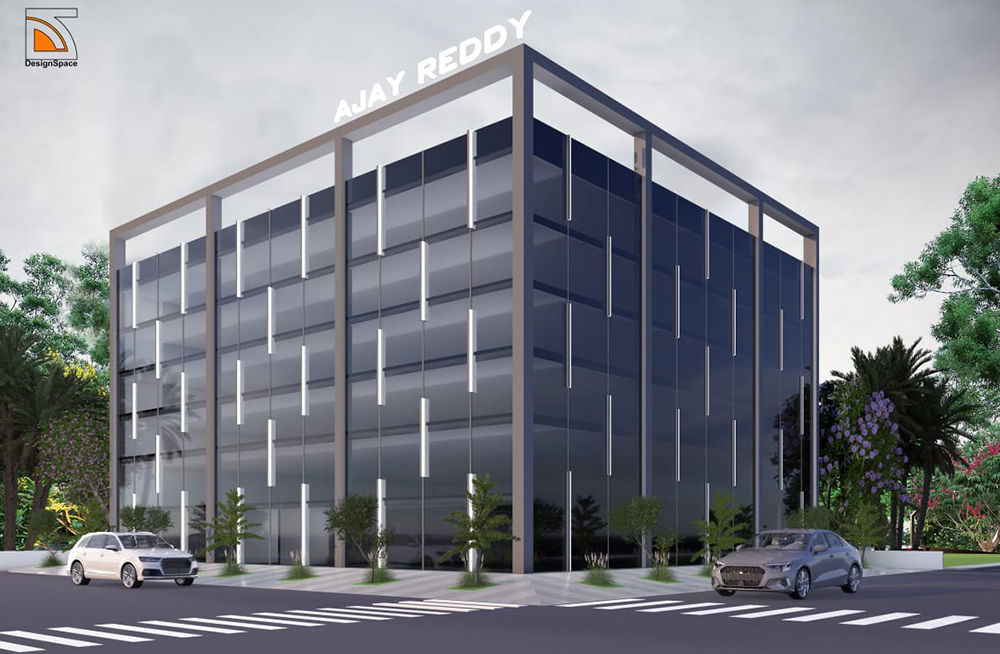 The Ajay reddy Commercial building complex in Hyderbad after their completion. For a contemporary, modern look, the building will feature an elegant glass facade combined with a modern design..
Formwork from PASCHAL for efficient building progress
The concrete parts in the all levels are being cast in situ. Due to its versatility and the extensive range of panels, ARPITHA Constructuion opted for the Modular universal formwork from PASCHAL.
For the Retaining walls with Column offset with a concrete area of around 17,000 square metres, PASCHAL Form Work (India) Pvt. Ltd. supplied in compliance with German standards, around 100 per cent of the formwork material within 15 days so as to support the project teams according to their project requirements.
Solid foundations thanks to the Modular universal formwork
For this project, PASCHAL Form Work (India) Pvt. Ltd. supplied for Retaining wall with Column offset. With the versatile Modular formwork system was able to use for approximately 20 different sizes of footings also at foundation level. For the footing sizes varied from 2 x 2 metres to 3.5 x 3 meters. The simple formwork connection technology also ensures that work progresses easier and faster compared to conventional formwork.
By using the Modular universal formwork, it was possible to produce the large individual foundations in the appropriate quality very quickly.
During the second construction stage, Column measuring 0.6 x 0.2 metre to 0.9 x 0.6 metres, each with a height of 3.25 metres, as well as retaining walls, shear walls and core walls of various shapes were built.
The extensive range of PASCHAL Modular formwork panels allows the elements to be combined in many ways. All the geometric structures of the shear and core walls were therefore produced with efficient arrangement of the Modular formwork.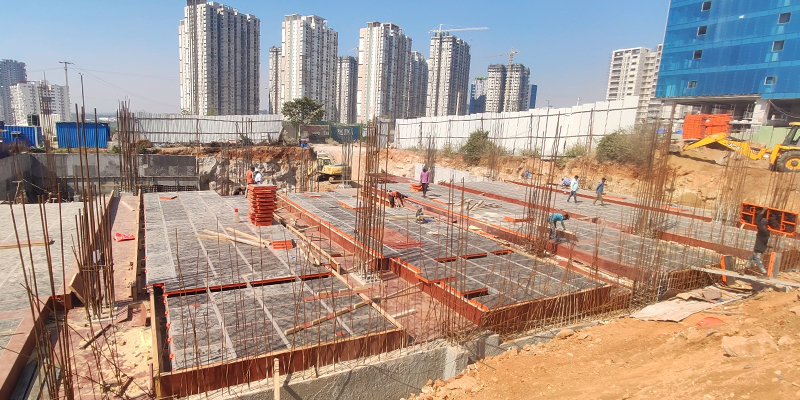 e-deck slab formwork ideally suited for construction sites without crane availability and where aluminum is not an option. Fully compatible with Modular/GE universal formwork, which allows problem-free and direct connections and transitions between wall and concrete slab or beams.
Perfect formwork and formwork planning to overcome any challenge
In addition, the exact planning on the part of PASCHAL guaranteed that the available material could be used for all the other walls without disrupting the schedule.
Another challenge that needed to be overcome during the course of this project was the precise scheduling for the concreting and connecting of the vertical structures and the pre-fabricated slabs. By using the Modular universal formwork, it was possible to keep exactly to the timeframe with outstanding concrete results.
Modular formwork from PASCHAL - the tried and tested universal formwork
Modular universal formwork demonstrates its versatility, adaptability and flexibility - whether for foundations, walls, shafts, curvatures, columns or beams - time and time again. Another benefit of the PASCHAL Modular formwork lies in its durability and robustness. Consequently, the formwork material can easily be reused even after many applications.
The use of Modular universal formwork on this project enabled time and costs to be saved for a wide range of areas:
Shorter assembly and dismantling of the formwork
Handling by semiskilled man power as per site engineer opinion.
Simple handling of the system
«
Current News