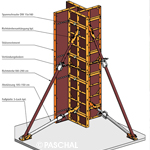 03.11.2014
Practical system expansion increases the unbeatable cost-benefit ratio of "evergreen's" Modular formwork even further
PASCHAL has expanded its universal "Modular formwork" system even further with the addition of its variable "Modular column formwork". This is PASCHAL's targeted reaction to the demands of various export countries where reinforced concrete frame construction is dominant.
This system expansion allows you to form square as well as rectangular reinforced concrete columns with external dimensions from 20 to 50 cm in increments of 5 centimetres.
The system is designed to build dependable column forms in varying lengths, widths and heights in a short time using a small number of light panels.
If special requirements are additionally placed on the column edges, chamfer angles or sealing strips can be inserted in the corners of the formwork and fixed there.
Dimensions, weights and combinations
The panels come in heights of 100 cm, 125 cm and 150 cm and have a fixed width of 60 cm.
The modular column panel, with its dimensions of 60 x 150 cm, has a dead weight of less than 40 kg, so it is easily manageable for two people.
The height of the Modular column panels can be extended by fastening them one below the other using the keybolts. Connection holes have already been made in the frame profiles and plywood to provide a force-fit corner connection with locking screws.
The prepared holes in the 15 mm thick phenolic resin-coated plywood are sealed at the factory with PVC plugs which simply have to be popped out on the construction site. The locking screw fits through the two parallel opposing holes so that it can be hammered in from the outside as usual.
The Modular column formwork system is configured for a maximum fresh concrete pressure of 60 kN/m² in accordance with DIN 18218.

PASCHAL offers supports and adjustable props with suitable connecting and fastening accessories for aligning the formwork units.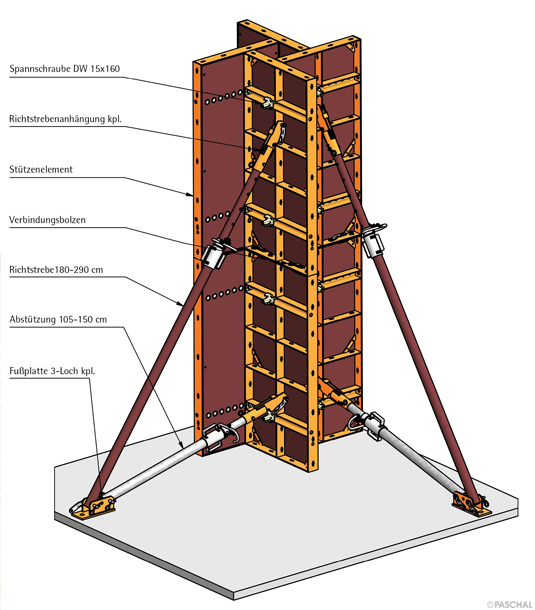 The proven windmill vane principle allows you to form a wide variety of different reinforced concrete columns from just a few individual panels of the variable Modular column formwork – without having to use a crane!
«
Current News